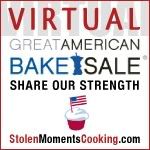 Today Kate from A Simple Walk and Cooking During Stolen Moments shares about how you can get involved in the VIRTUAL Great American Bake Sale this year to help raise money and awareness to help stop child hunger in America.
A few weeks ago, I saw a commercial on Food Network about the Great American Bake Sale program that Share Our Strength runs every year. I knew I had to get involved. The logistics of hosting an actual bake sale that would have a big impact just didn't seem possible for me with 4 young kids. That's when the idea for the Virtual Great American Bake Sale occurred to me. I emailed Share Our Strength and they were excited about my idea. So here we are and the Official Virtual Great American Bake Sale will kick off on April 13th.
My passion for helping Share Our Strength started a few years ago when our family was experiencing some very difficult financial times. My husband and I learned what it meant to not know where our next meal would come from. At the time, humbled beyond belief, we went to a local food pantry. We learned about a whole different world filled with organizations that are compassionate and that put children first. Share Our Strength, with their motto "No Kid Hungry" was one of those organizations.
I hope that you all would like to get involved with this project too. It's super easy to participate and the more people that participate, the more money we can earn for Share Our Strength.
Each year Share Our Strength asks people to host bake sales in their communities with all of the proceeds going to their ultimate mission – making sure no child goes hungry! The virtual bake sale is going to spread this movement to the blogosphere.
The Virtual Great American Bake Sale consists of two key elements:
the sale of baking recipes ebooks filled with the recipes of participants (with 100% of the proceeds going directly to Share Our Strength) and,
an actual virtual bake sale on April 13th.
On April 13th, I will publish a post on my blog, Cooking During Stolen Moments, that includes links to each participants blog and their recipe. Virtual bake sale visitors will go from blog to blog looking at the recipes, much like you would walk around from table to table at an actual bake sale. Each participant will have a link to purchase the ebooks also. The ebooks will not have a set price. Instead, they will be available for any donation amount of the purchaser's choosing.
I am asking that recipes be submitted by April 5th so that they can be compiled into ebooks before the kick-off of the Virtual Great American Bake Sale.
To submit a recipe, email a recipe to the official Virtual Great American Bake Sale address ([email protected]), or fill out the submission form here. Also, if you have a previously posted recipe that you'd like included in the ebooks, you can just provide me with a link to that post and I can take it from there. Your name and blog URL will be included with your recipe, if desired.
Please also consider spreading the word and asking your blog readers to submit recipes for, and/or participate in, the Virtual Great American Bake Sale. On Twitter, please use the hashtag #vgabs.
I hope you'll join me in my vision to make the Virtual Great American Bake Sale a success. Let's support Share Our Strength's work to make sure that no child goes hungry!
If you have any questions, please feel free to email me ([email protected]) or leave a comment on my blog, Cooking During Stolen Moments. You can also read a more detailed description of the VGABS here.