READER QUESTIONS
How do you plan a menu a month ahead and still get all the deals on those foods-don't ads come out a week at a time?
Stockpile! I have a freezer stocked full of meat, chicken and pork that I have bought at its lowest price. Example: I bought 4 packages of boneless, skinless chicken breast for $1.88/lb or about $2.25/package. I bought 4 1.5 lb. packages of ground beef at $1.49/lb that I can turn into 8 meals, as I use half a package for a meal. These 2 prices are as low as I've seen in my area, so I stock up. I do the same with canned tomatoes (this is typically the only canned item I buy!).
Produce/Dairy: This is what the bulk of my weekly grcoery trips are for. I buy enough fruits and vegetables to get us through the week. For a list of the fruits and vegetables that are in season and will be on sale often throughout the fall, click here. Example: I got 5 sweet potatoes for next week's Sweet Potato Soup for $1 because they were on sale. I don't know if they will be on sale next week. Sweet Potatoes are one type of produce that will last a week to 10 days, so why not take advantage of the sale. Also, if I see a great deal on a fruit or vegetable, I will buy it and freeze it! More details here!
I generally plan out the meals based on what's in the freezer and will certainly change it around so I can use fresh protein products if the opportunity arises. When planning for next month, I will inventory the freezer to make sure that what's in there will get used up, and I can restock later when the prices drop to their lowest!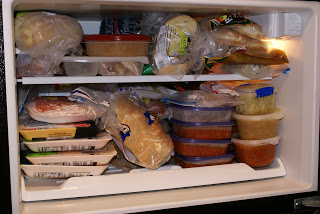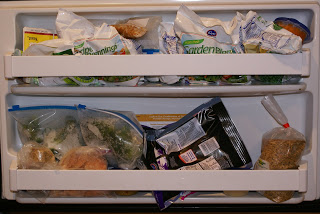 I would also love to see a list of the things that you buy every week!
Perhaps I can post a picture of the week's groceries with a total cost and total savings the day that I shop. At this point, I feel like posting the ingredients with cost breakdowns and directions for each meal is enough "listing" for me! For now, I defer to the Grocery Cart Challenge. She menu plans on Monday and shops on Tuesdays. She shows a list with costs and savings. Many other blogs in my blogroll post their shopping trips, as well. For other ideas, you can check out Super Savings Saturday at Money Saving Mom. She posts a Mr. Linky each Saturday so you can explore others who post their shopping trips!
A typical grocery store run for me includes produce, organic section healthy snacks, apple juice, browse through the meat department looking for a good deal, onto the dairy section an a stop for frozen vegetables if they're on sale. I generally "shop on the edge" with the occasional dive into the middle for juice, pasta or beans! Oh, and diapers! I buy diapers when they are on sale and match them with a paper coupon and an "ecoupon" from Shortcuts.com, get $ put into a college account with Upromise "ecoupons" and then submit my receipt to Caregiver's Marketplace. I'm a bit of a Huggies snob, so this works out perfectly for me!
Because I play the Grocery Game, I am not allowed to post deals for that week. Playing the grocery game and "shopping around all the frugal blogs" allows me to save money on toilletries and household cleaners, thus leaving more money for food! When I mention a deal in a post, it's just to show you how I got the item for cheap. For grocery store deals, I recommend BeCentsable's Grocery Gathering! There are several bloggers who participate in this and will help you find the best deals! The girls closest to me who blog about deals and coupons are Mommy Snacks and Stretching a Buck. I frequent them because their prices are the same as those in my area.
That was a REALLY long answer to a short question! Now onto dinner!
Ingredients
Pork Roast ($2.35)

1 can tomatoes ($.23)

Salt and pepper, to taste

1/2

cup

Orzo pasta ($.50)

1 butternut squash ($1.17)
Instructions
Thaw pork roast, put into crockpot. Sprinkle with S/P, pour tomatoes and juice over the top. Cook on low for 8-10 hours.

Cook Orzo pasta as directed on package instructions. This pasta expands a lot! 1/2 cup goes a long way! Plus I need to use it up!

Split sqaush down the middle. Place upside down in glass baking dish with 1/4 inch water. Cook at 350 for 45 minutes sot an hour until flesh is tender.

Serve it all up!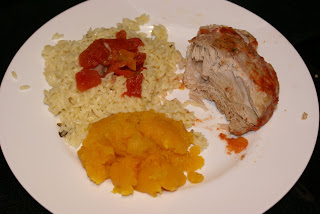 Cost $4.25