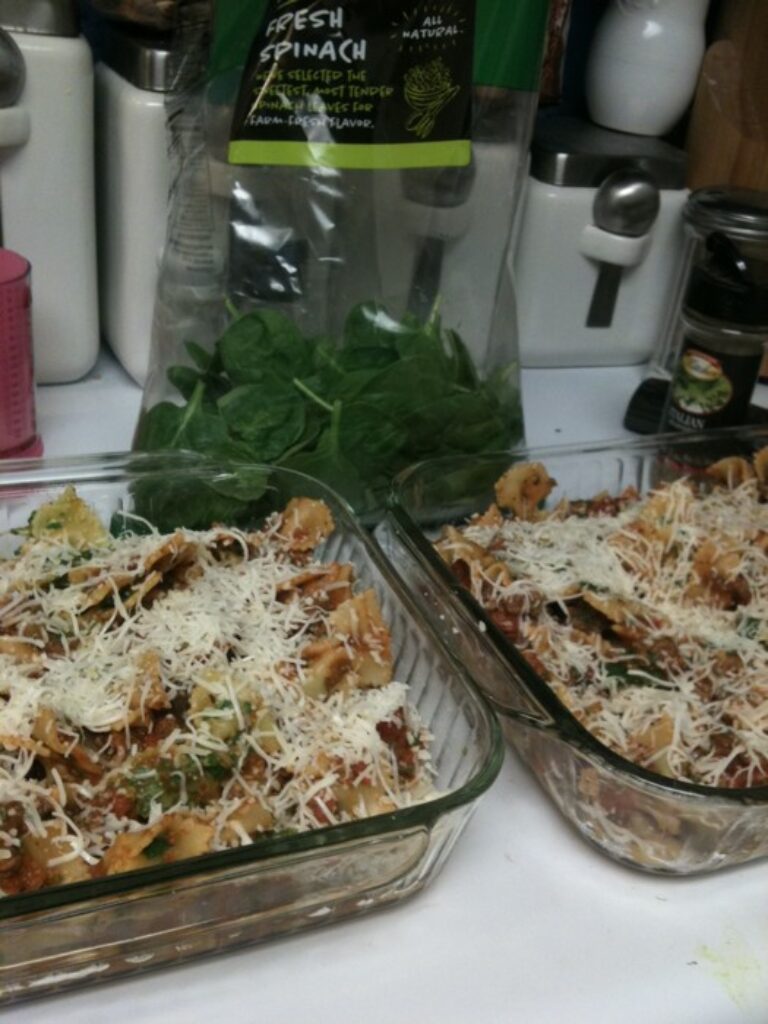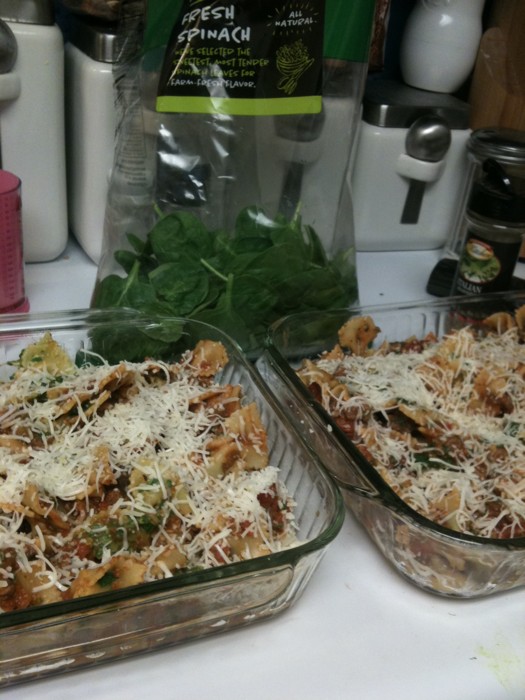 Greetings from my kitchen in Nashville! I'm Jessica from The Mom Creative and I am so honored to be sharing one of my favorite recipes, Baked Spinach Pasta, here on $5 Dinners. Erin has been a huge influence on me – in the ways that I shop for my family's food and how I cook.
This recipe makes 8-10 servings, so it is great for freezing and for leftovers. Because it is a bit tedious, I love to double the recipe and make a batch for a family who just had a baby or is going through a hard time. All my friends love this recipe and I get asked to make it now whenever they have a new baby! 🙂
Ingredients
1

lb

ground beef

2 cans stewed or diced tomatoes

1 jar of spaghetti sauce (I prefer Bertolli tomato basil)

1 onion

Italian seasoning

Garlic

Salt and pepper to taste

1 box of penne or bow tie pasta

1

lb

of spinach- chopped (I find baby leaf much easier to chop)

1.5

bags

of shredded Italian cheese (2 cups portion bags) (you can use more or less - I am a Wisconsin Italian, so I love cheese)
Instructions
Chop the onion finely - I use my Pampered Chef chopper

Put the onion and meat in a frying pan. Brown the meat, seasoning it with Italian seasoning, garlic, salt and pepper. I just sprinkle everything until it smells "Italian."

Drain off any fat.

Drain most of the juice from the diced tomatoes and add the two cans to the browned meat.

Let simmer for about 8-10 minutes, stirring often.

Add jar of spaghetti sauce and let simmer for 20-30 minutes on low, stirring occasionally. You want the meat, tomatoes and sauce to get a lot of flavor and the simmering does this. You can't really simmer too long. Just let it simmer while you do the next steps.

While the sauce is simmering, go ahead and chop all your spinach finely with a chopper.

Boil your noodles in a large pot (so you can use it to mix all the ingredients.)

Once your noodles are cooked, drain the water.

Add 1 bag of cheese to the pot of hot noodles and stir so the cheese starts to melt.

Stir in the spinach.

Stir in the meat sauce.

Pour everything into your pans - this usually makes an 11x17 and an 8x8 pan of pasta for me.

Sprinkle the tops of both pans with the other half bag of cheese.

Bake for 30 minutes at 375 so everything can bake together and the cheese will melt on the top.

Enjoy!
A couple notes: I do not recommend using frozen chopped spinach in this recipe. It waters it down and is not nearly as flavorful. Also, do not use a food processor to chop the spinach, as it chops it too fine.
If you use stewed tomatoes, be sure to cut the tomatoes into smaller pieces. For even more flavor, you can add a chopped up Italian sausage to the meat when you brown it.
I hope you enjoy this recipe as much as everyone in my life does.
Jessica's motherhood musings, crafty projects, giveaways (including an amazing Amy Grant giveaway today!), and frugal living tips inspire thousands of moms each month on TheMomCreative.com. She is proud to be an (in)courage writer, Southwest Airlines' official mommy blogger, and a teacher for Big Picture Scrapbooking. Follow her on Twitter(@JessicaNTurner) and on Facebook.