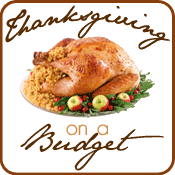 This week we are running a special series on doing Thanksgiving…on a budget!
Who is "we"?
That would be Amy from Amy's Finer Things, Jessica from Life as Mom, Monica from The Homespun Heart, Crystal from Money Saving Mom, and yours truly!
We're kicking things off over at Money Saving Mom later today…with more fantastic ideas and recipes on each of our sites each day this week.
Each morning I'll post the link to that days Thanksgiving on a Budget posts…will be a fun scavenger hunt for ya!!!  So stay tuned…