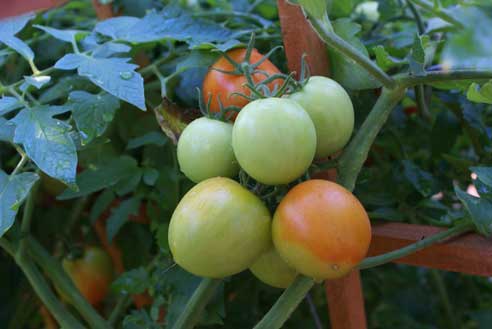 I LOVE watching the tomatoes turn color!
One of the eggplants didn't survive, but 2 are growing in strong!  I was tempted to pick them this week, but will hold off a bit more.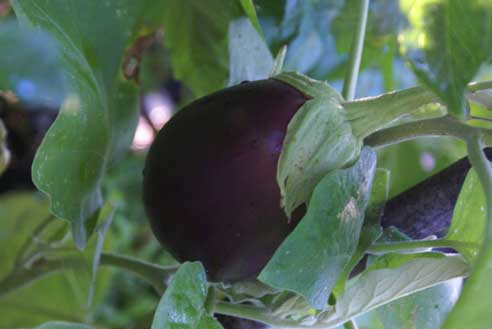 The green pepper plant now has 2 new peppers growing.  It has only made 1 thus far, so I'm excited to see 2 more growing.
My bush beans continue to produce.  We had another meal's worth of green beans last weekend.  And perhaps will get more.  The plants have certainly seen better days, but I continue to pick off the older leaves and new leaves grow in.  Along with new beans!
The hot pepper plants are also producing quite a few peppers.  I've picked 8 peppers off one of the plants, and just 1 pepper off the other plant…with many more to come.  The peppers are waiting in the freezer…to be used for salsa.  I simply froze them whole and will just cut off the stems before throwing them into the blender for salsa!
The tomatoes continue to thrive and take over.  They are now growing inwards towards the middle of the garden, and back over the backsides of the trellises again, and I had to construct a make shift stand with large sticks from our stick pile.  I don't want those pesky chipmunks to think they can munch on my 'maters!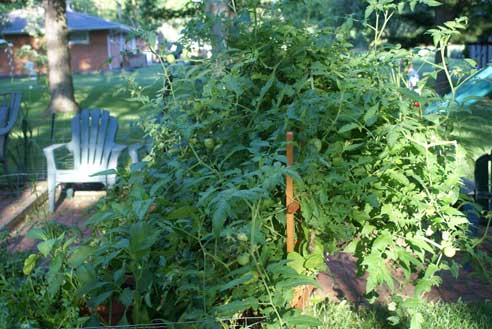 I've picked about 10-15 tomatoes each week for the past 2 weeks.  I made the Garden Marinara, as well as Pico de Gallo. I'm also collecting cherry tomatoes to roast…seemed to be the most popular suggestion from you all! 
So how is your garden doing???  I love looking at your progress and hearing about your harvests!