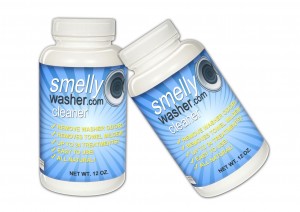 If you follow me on Twitter, you might have picked up on the fact that…well, the laundry and I have a "love/hate" relationship!  While I LOVE sorting and washing the clothes, I am NOT A FAN of folding and putting them away!  And ironing…we just won't talk about that!
I know this product is not at all food related, but it is "mom-related"…as when I'm not whipping up dinner or passing out snacks, I can often be found in the laundry room or on the floor folding clothes (ugh!).
Ever noticed how on occasion your washing machine just doesn't smell right?  Or perhaps the towels just don't smell right, even with the extra fabric softener sheet you threw in? 
Smelly Washer Cleaner is an all natural cleaner that will help remove that mildewy smell that can be left on clothes! 
10 winners will each get 1 bottle of this Washing Machine Cleaner!  So if you'd like to give it a try, you can enter to win below!
Giveaway Details
1. Contest ends Saturday, August 22nd at 10 am EST. Winners will be announced back here on this post, and notified via email with further instructions.
2. Entry #1: Leave a comment just saying you want to win.
3. Entry #2: Leave a SEPARATE comment telling me in what way you promoted this contest (i.e., posting it in a forum, posting about it on your blog, Tweet about it, emailing all your friends, and/or subscribe to my feed by email or in a reader).
4. Entry #3:  What is your favorite (or least favorite) part about doing the laundry??? 
5. Winner will be selected by Random.org.
**NOTE: If you receive the email newsletter and wish to enter this giveaway, click on the title of this giveaway to get to the site and leave a comment on the site with your name and email address to be entered!
*Disclosure: I did not receive any products or compensation for hosting this giveaway!
1st Anniversary Celebration of Giveaways Main Page