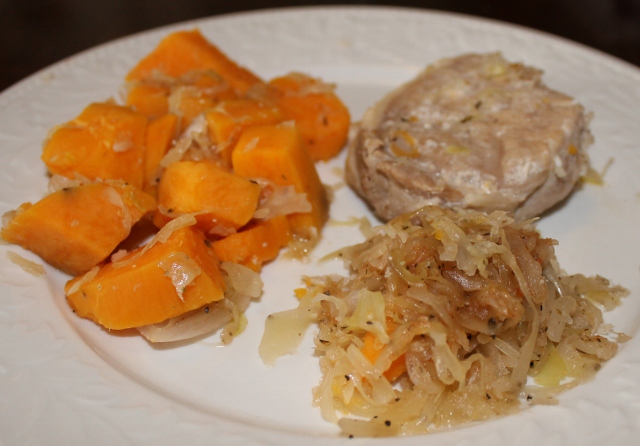 Last weekend I had a batch cooking day. I made large batches of rice and bean, chopped onions, peppers, and tomatoes, grated cheese, browned hamburger, and batch broiled chicken. Despite all of the cooking, I wasn't actually assembling any dishes. I was just loading my freezer with prepped ingredients to make it easier to assemble dinners on busy nights.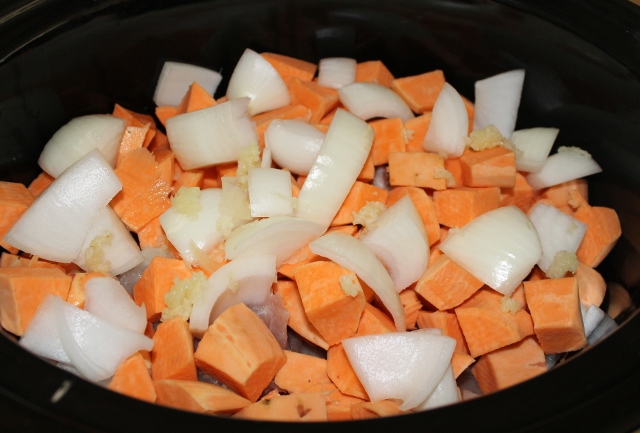 I know from experience that the last thing I feel like doing at the end of a batch cooking day is cooking! So before I started working, I quickly pulled together the ingredients for Pork and Sauerkraut and put it all in the slow cooker. Pork and Sauerkraut is traditionally made with potatoes, but I love the contrast of sweet potatoes with sauerkraut.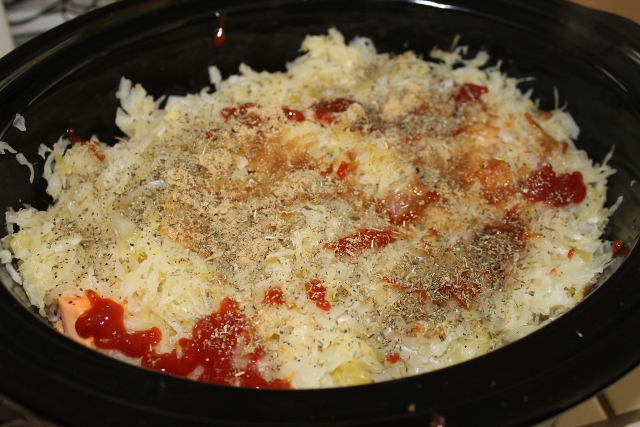 You can use just about any cut of pork you wish in this recipe: pork chops , pork ribs, or pork roast cut into 4 ounce slices. I make my decision based on what is on sale. 🙂
Ingredients
2 pounds pork chops

4

medium

sweet potatoes, coarsely chopped

1

small

onion, quartered

4 cloves garlic, minced

32 ounce jar sauerkraut (How to Make Sauerkraut)

1/2

cup

water or apple juice

2 tablespoons brown sugar

2 tablespoons ketchup

1 teaspoon sage

1 teaspoon thyme

1/4 teaspoon pepper
Instructions
Place pork chops in the bottom of the slow cooker.

Place the sweet potatoes, onion, and garlic on top of the pork chops.

Pour sauerkraut over the top of the sweet potatoes.

In a small bowl, mix water, sugar, ketchup, and spices. Pour over the top of the sauerkraut.

Cook on high for 1 hour. Then cook on low for 5 - 6 hours.