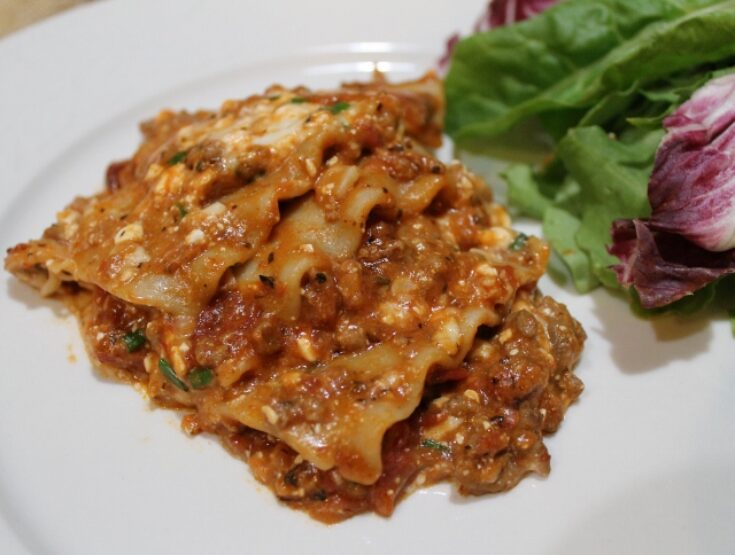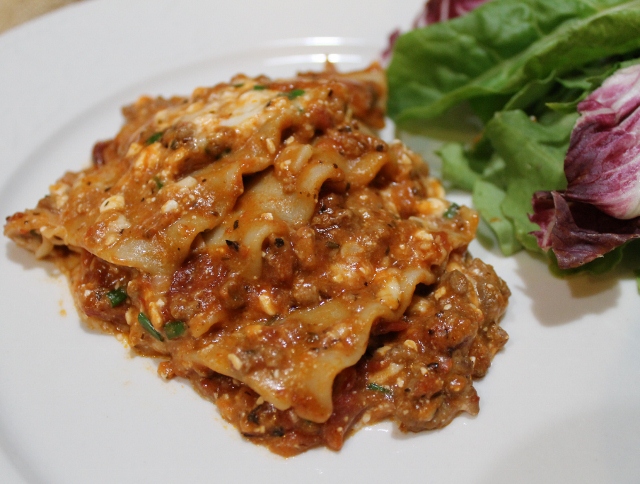 I have been making different types of vegetable lasagnas all summer. After the last one, my oldest son said, "your veggie lasagnas are awesome, but I'm wondering when you are going to make a standard lasagna". Obviously making a "standard lasagna" shot to the top of my to-do list! But our life has been crazy and every evening when I looked at the clock I realized that I just didn't have the time to cook a lasagna – traditional or veggie.
This weekend when I realized that I had once again let time slip away from me, I decided to use my "standard" lasagna flavors to make a fast and easy Skillet Lasagna.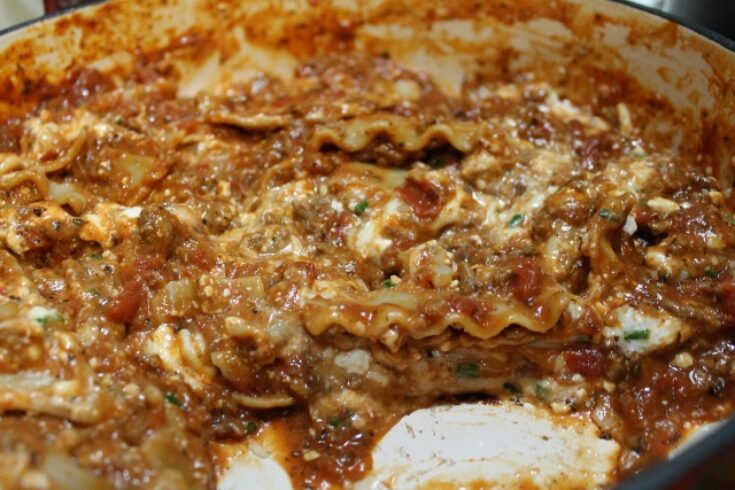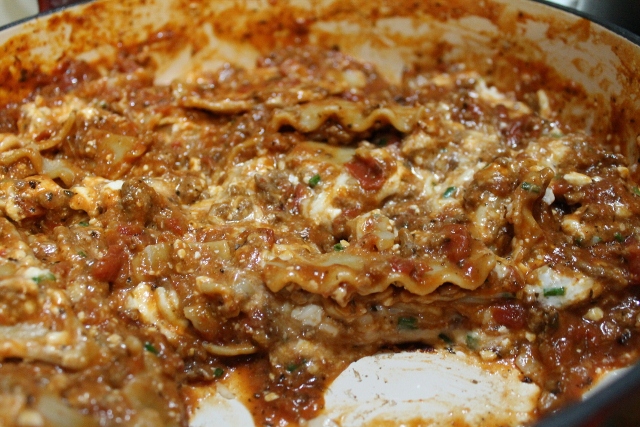 Skillet Lasagnas are not as pretty as those same ingredients baked in layers in a casserole dish, but the essential flavors are all there and that was what was important to my son.
One of the benefits to making lasagna in a skillet was that I used half as much meat, a third less noodles, and three-fourths less cheese, so it was a frugal way to enjoy the traditional lasagna flavors.
Ingredients
1/2

lb.

hamburger

1

cup

onion, diced

4 cloves garlic

1 3/4 cup (or 15 oz. can) diced tomatoes (Don't Drain!)

1 3/4 cup or (14.5 oz. can) tomato sauce

1 tablespoon Italian seasoning (how to make Italian seasoning)

1 teaspoon sugar

1

cup

of water

6 lasagna noodles, broken into fourths

1/2

cup

cottage cheese

1/2

cup

mozzarella cheese

2 tablespoons Parmesan cheese

2 tablespoons chives, thinly sliced
Instructions
Place hamburger, onion, and garlic in a large lidded skillet. Cook until the hamburger is cooked through.

Add diced tomatoes, tomato sauce, Italian seasoning mix, sugar and water. Stir to thoroughly combine.

Add the broken lasagna noodles and stir again to coat the noodles with the sauce.

Cook over a medium-high flame until it reaches a boil.

Lower flame and simmer with the lid on until the noodles are al dente.

While the noodles are cooking, combine the cheeses and chives in a small bowl.

Once the noodles are ready, turn off the flame, add the cheese mixture, place the lid back on, and let it sit for 2 -3 minutes until the cheese melts.