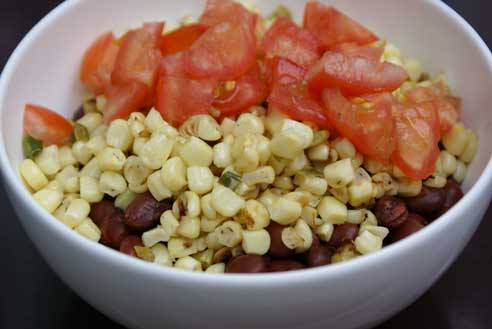 Pan roasting corn with green onions and garlic *might* just be my new favorite way to prepare corn! It gave this such a great flavor!
Remember that adding in a fun vegetarian dish like this one each week will help shave a little off your grocery bill!
Ingredients
1 1/2 cups dried small red beans ($.60)

6

cups

water

Bunch green onions ($.33)

Few pinches of salt

1

cup

brown rice ($.40)

1 tsp olive oil ($.05)

1 tsp lemon juice ($.03)

2 garlic cloves, crushed ($.10)

Kernel from 2 ears of corn ($.38) On sale $.19 each this week!

5

small

tomatoes (from the garden)

Salt and pepper, to taste

1

small

bag of organic corn tortilla chips ($1.47) On sale this week!...and will use up the rest for tomorrow night's Taco Salad!

About 1/2 jar store bought salsa ($1) I'm itching to make my own and can it...but am waiting a few weeks to go to the $.69/lb "you pick" tomato extravaganza at my farmer's market!
Instructions
Soak beans overnight (or at least 2 hours in HOT water if you forget to soak overnight!). Drain and rinse. Add to large saucepan with at least 6 cups of water, the white part of the green onions, and a few pinches of salt. Bring to boil, then reduce heat to medium and cover. Cook for 1.5 - 2 hours, or until beans are soft.

In small saucepan, cook brown rice according to package instructions.

Once beans and rice reach the end of their cooking times, add olive oil and lemon juice to skillet. Add crushed garlic, sliced green part of the green onions, and the kernels from the corn cob. (Cut off from the cob!). Saute over medium high heat for 7-10 minutes, or until corn browns.

Dice tomatoes from the garden.

Serve Red Beans over Brown Rice, Topped with Pan Roasted Corn and Tomatoes...and Chips and Salsa!