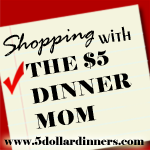 Grocery Budget Fail Alert!
Or maybe I shouldn't call it a fail. Because I really knew that I'd be spending more than normal this last week of the month…because we are hosting Thanksgiving with family and friends, and because we have house guests for a few days this week. So we upped the budget significantly this past week ($200 total), to account for the double/triple dose of food we'd be purchasing. Even still, I went over that budget by about $15. Ack!
I will share the details of last week's trip because I have a photo. I didn't take one yesterday after going to Kroger…because I really don't think it would have all fit on the counter. I spent $181.90 on all that we needed for the week, the feast and for our guests.
In other shopping adventure news…
I went to Meijer late Sunday night to snag a few of their deals on Thanksgiving ingredients…spend $20.19 total on sweet potatoes ($.25/lb!), $.50 canned cranberry sauce (coupon here) that I plan on saving for the stockpile to make Cranberry Chicken Salad sandwiches, all-natural stock ($1.67 each) and onions (2/$3). I also grabbed a few bags of "baking chips" for my upcoming Christmas cookie dough extravaganza! More on that soon…
I dropped into CVS to get some olive oil…spent $4.98 on 2 bottles, using 2 $1.50 coupons that I printed back in October and were about to expire.
And I plan on stopping into Aldi this morning and spending $7-$8 on cranberries and a few other goodies for the feast and stockpile.
I decided to go back through my Kroger receipt to fish out the costs of the feast ingredients…plus add the other costs from Meijer and Aldi. My feast budget is $5 per person, or $75 for this year's feast.
My feast ingredients total came to: $77! So close!
(See our Thanksgiving meal plan.)
(Note…this doesn't include turkey price, as that's Grandma's treat!)
Total spent this week at all these stores: ~$215
Kroger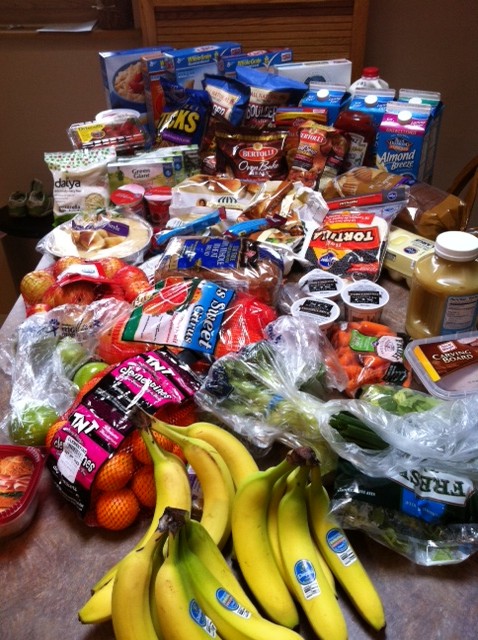 Here's last week's trip. After being out of town for so long, we really needed to restock the fridge. I'd done a pretty decent job of emptying it out before our trip to TX.
*HOT DEALS*
Sister Schubert's rolls ($1.50 each after sale and coupon)
Free
2 Bertolli soups (free coupons from Bertolli giveaway campaign. go enter!)
1 eggs (free product coupon from store mailer)
1 lettuce (free product coupon from store mailer)
Total spent this last week: $92

Total for the month: $144.93 + $92 + $215 = $450 (And now we have a hearty stockpile, and I'm hoping to spend less than $60/week in December to offset the extra costs this past month!)

My grocery store's ad scan and my "Shopping FAQ!"
Thanks to Andrea at Savings Lifestyle and Marcy at Stretching a Buck for posting the best deals and coupon matchups at my stores each week! Find the coupon match-ups for your grocery store at The Frugal Map!