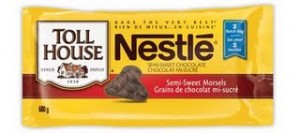 Here are some of the latest and hottest printable coupons:
$1/1 Nestle Chocolate Chips (Please note: The screen will say $1/2 bags, but will print $1/1!)
$.75/1 Rice or Soy Dream Milk or Ice Cream

$1.50/1 All Bran Crackers (Think crackers and dip for holiday parties…if you are hosting or bringing a side!!!)
$1/1 Frosted Mini Wheats (Love those high value cereal coupons…pair with a sale to get for $1/box or less!)
$1/1 Soy or Coconut Milk Purely Decadent Ice Cream (GREAT coupon for those with dairy and/or soy allergies!)
**All coupons can be printed twice…just hit the back button a few times on your browser 🙂

And remember, tomorrow most coupons will be reset and new coupons will be released for the month of December!  So get your mouse ready for clicking…and your printer ready for printing!!!
FREEBIES (Thanks Free Stuff 4 Free!)
Be sure to check out all the printable coupons available at Smart Source and Coupons.com!
Want healthy and inexpensive meal ideas, the hottest coupons and other money saving tips delivered to your inbox??? Sign up for the FREE $5 Dinners Email Newsletter!