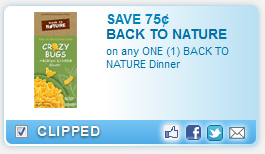 Print a new coupon to save $0.75 on any Back to Nature Dinner!  I love that the Back to Nature Dinner products are quick and easy to make, plus contain no artificial flavors or preservatives.  And, there are several organic options as well!
Be sure to check out all the printable coupons available at Red Plum, Smart Source, Coupon Network and Coupons.com!
Looking for a coupon for an item on your shopping list? Or a coupon for your favorite product? Be sure to check for it in my coupon database!
Never miss a coupon! Get the latest and greatest coupons delivered straight to your inbox, just moments after they are posted! Or download the FREE toolbar…learn more