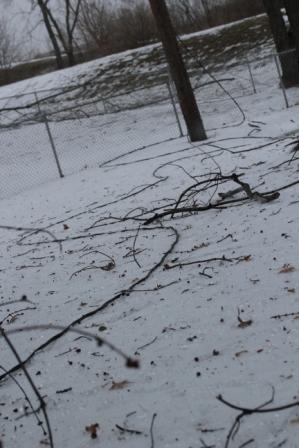 Lights flickered on and off most of last night.
Tree branches covered in ice creaked and groaned, and made me feel like I was sitting in the middle of a Stephen King winter thriller.
Creepy.
Eery.
The wind howled and I knew that we'd lose power.  We have 48 trees on our almost half acre lot.  They are very tall and mature trees.  This is just not a good combination!
At 11:30, we headed for bed, bringing extra blankets with us…in case we lost power.  We also brought the flashlights, phones, chargers, radio, etc.  Account number for our electric company, as well as the phone number. We also cranked up the heat a few hours before the outage, so the house was toasty warm. We would be prepared!
Then we heard it.
CRACK.
BOOM.
Darkness.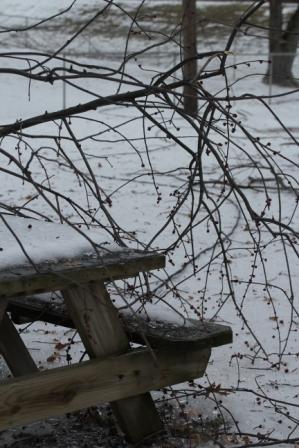 Live wire in the backyard!
After calling the power company, we decided to move ourselves into the boys' room and sleep in the bunk beds with them.  Their room is the smallest in the house and only has 1 window, so it stays fairly warm.  We weren't sure how cold the house would get overnight without the heat kicking on, so keeping each other warm seemed like the best choice!
Cozy times!
Steve and I are not strangers to power outages.  We experienced them daily when we lived in the Dominican Republic.  Sometimes three or four times daily.  And while "la luz" might be out for 10-12 hours of the day, we knew it would come back on.  We also didn't have to worry about the cold.  Or our food.  We are accustomed to not opening and closing the fridge during power outages.  We are accustomed to living without the computer, internet, and learned to enjoy reading by candlelight.
We are NOT however accustomed to all this when it's 20 degrees, icy and snowy outside.  Nor how to manage it all with 3 little people in tow.
When the boys woke up, we had a long discussion about power and electricity.  We talked about the things we couldn't do…
Cook.
Do laundry. (Too bad! 😉 )
Turn on the lights.
Work on the computer.
Print coloring pages.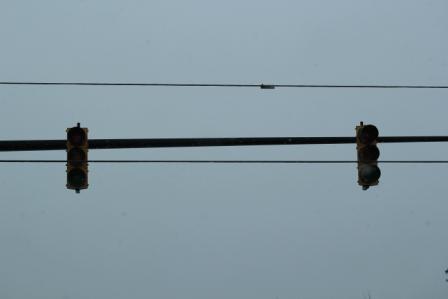 Run traffic lights. (Well, we don't do that on a regular basis. But…)
And then we talked about the things that we could do…play games, puzzles, read, color.  Then they seemed OK with the concept.
We then looked out the window and talked about trees, power lines, and let them figure out in their little minds what happened.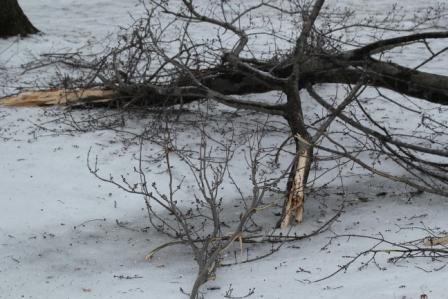 And I'm pretty sure we are on the end of the list because we are an "isolated outage"…meaning it's just our house that's out in the area.  Based on our experience from the 2008 wind storm and being without power for 11 days, we learned that the the smaller outage groups get the attention last, as they try to get the most people back on the grid as quickly as possible. There are 60,000+ without power in our area. And I have a feeling it will be days for our to be restored!
But on the bright side.  There is much to be thankful for!
We have food.
We have blankets and jackets to keep us cozy.
We have a place to stay if we need it.
And we have each other!
Also, I spent hours yesterday in the kitchen.  I intended on just doing a little batch cooking, but ended up doing much more!  I was also able to get photos taken and processed, so there will hopefully won't be any "blips" in the content around here!
All the food is now in cooler in the trunk of the car.  Staying nice and cold and frozen!
And there are places to go with free WiFi!!!
We count these blessings…and are thinking and praying for all the others affected by this storm!