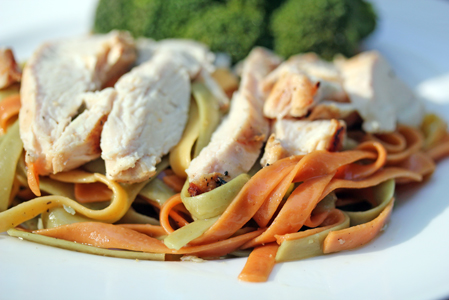 On Monday night, I was itching to grill chicken. It was a gorgeous day. And eating inside was just not an option.  It was just too nice not to be outside.
I did a "small batch" of chicken on the grill. And decided it would be best to use up one of my free boxes of pasta noodles, and pair it with the $.99 broccoli that's on sale this week!  Ya know, cuz this is how I roll!
I thought about doing a simple olive oil and garlic for the pasta, and didn't want to do a tomato based sauce…so I ended up making a lemon garlic sauce that was the perfect flavor and "lightness" for summer.  This might just becoming my "Summer Spaghetti."
This recipe turned out to have lots of "4"s…if you count the 2 lemons as halves. 🙂
And don't be alarmed if you garlic turns blu-ish turquiose. It's a chemical reaction thing that happens when the lemon juice and the garlic react over the heat. At one point in my life, I was interested in chemical reactions and such. But it seems that part of my brain was damaged or destroyed since bearing children. 😉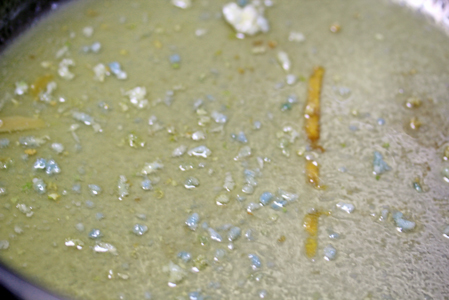 Delish, delish, delish…despite the blue garlic.
This might just becoming my "Summer Spaghetti."
Pasta with Lemon Garlic Sauce

Ingredients

4 Tbsp butter or margarine ($.25)
4 garlic cloves, crushed ($.10)
4 lemon halves…or 2 lemons, juiced ($.50)
Salt and pepper to taste
1 lb. linguine or spaghetti noodles (free)
2 chicken breasts, grilled and sliced ($1.88)
2 broccoli heads, steamed ($.49)

Directions

Cook the noodles according to the package. Drain. Don't rinse.
In the same saucepan that you cooked the noodles, melt the butter and saute the crushed garlic cloves for 30 seconds to a minute.  Then squeeze the juice from the lemons and watch the garlic turn blue.
Reduce heat and let simmer for 2 to 3 minutes.  Season with some salt and pepper. Remove from the heat and toss the noodles back into the sauce.
Serve Pasta with Lemon Garlic Sauce with grilled chicken strips and steamed broccoli.

Cost $3.22