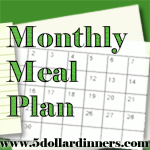 In order to have a little fun, while adding a little more structure to my meal planning, I thought we'd have themed weeks this month!  This first week, I'm going to attempt to clean out the pantry during Pantry Staples Week.  I'll use up the ingredients by making some old favorites, and trying out some new recipes too.
Vintage Recipe Week is a tribute to my grammy, who passed away earlier this year.  I'll be making recipes from a cookbook of hers from 1940!
And now that Autumn is here to stay, we'll be celebrating with a warm your tummy and your heart Soups and Stews Week.
Pantry Staples Week
4- Slow Cooker Coconut Chicken
5- Janet's Pasta with Bolognese
6- Chicken Enchilada Chili
7- Jamie's Cajun Meatball Stew
8- Chorizo and Black Bean Soup
9- Grill sumpin'
10- Leftovers or Sandwiches
Vintage Recipe Week
11- German Coffee Cake
12- Chicken Croquettes
13- Smothered Pork Chops
14- Shipwreck Stew
15- Swedish Tea Rolls
16- Back to 2010 Food…and we'll go out to dinner!
17- Leftovers or Sandwiches
18- Breakfast Tacos for Dinner
19- Spaghetti – Mama's Out of Town
20- Homemade Pizza with Carrot Sticks – Mama's Out of Town
21- Ranchero Black and Pinto Beans
22- We'll see what's on sale this week and make a "bargain meal!"
23- Sesame Chicken Stirfry
24- Leftovers or Sandwiches
Soups and Stews Week

We'll be trying reader recipes all week.  Will post as we make them. 🙂
Want to know more about why I plan my menus out each month? Read more here…
Want to give monthly meal planning a try?!?…check out all the printable planners and templates that will help with your weekly and monthly meal planning!