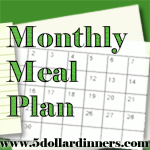 So February.  It's here.  And I'm ready for it!
I'll be away from home (cookbook signings, publicity and some vacation time) quite a bit this month.  So I'm not sure exactly how to plan out this month's meals…but in order to keep the left half of my brain from jumping out of my head, I must do something…so I've made a list of some new recipes that I want to try…and some old recipes that I'd like to revisit!
New Recipes to Try
Mushroom Swiss Steak
Brussel Sprouts with Chicken and Pasta
Sausage Apple Egg Casserole
Baked Walnut French Toast
Italian Sausage Soup
Old Recipes to Revisit…from the Cookbook!
Chili
Pork Roast with Apples and Pears
Shrimp Scampi
Plus there are the old standbys…spaghetti and "breakfast for dinner" for those harried afternoons that I know will be coming our way this month!
Here's more on why I plan my menus out each month.