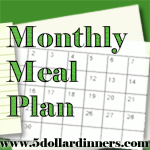 It's that time again!
I really liked how I had the lists for New Recipes to Try and Old Favorites. It's enough of a plan and gives structure to dinner time, but I really appreciate the flexibility of it!  There were 6 recipes that I never did get made in March, so we'll carry them over to April 🙂
Here's the list!
New Recipes
Apple Chicken Meatballs
Pizza Loaves
Black Bean Chili
Minestrone Casserole
Kale and Black-eyed Pea Soup
Apricot Chicken
Spaghetti and Meatball Pie
Tabbouleh with Quinoa
Pan Fried Tilapia
Mini Pizza Pockets
Slow Cooker Confetti Chicken
Maple Pecan Caramel Rolls – Breakfast Treat
Old Favorites
Want to know more about why I plan my menus out each month? Read more here…
Want to give monthly meal planning a try?!?…check out all the printable planners and templates that will help with your weekly and monthly meal planning!