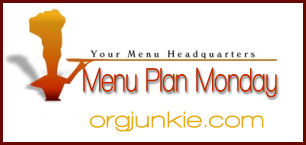 My Dad is visiting for a few days…so I'm not exactly sure what we'll be having for dinner…but I have no doubt that he'll treat us to his specialty…grilled steaks. Mmmm.
(I was hoping to do a Pantry Challenge Week this week…but we'll hold off on that until next week.)
Monday – Dad's Grilling Steaks!
Tuesday – Out for dinner?!
Wednesday – I'll be in Wisconsin with the baby, big boys are on their own!
Thursday – Chili or Soup
Friday – Spaghetti with Spinach Meatballs
Saturday – Pasta with Bolognese Sauce
Sunday – Leftovers or Soup
I will post the recipes each night after I make the meal. If you see a meal you are interested in, please check back for the recipe later in the week!
Current Monthly Meal Plan can be found here! Need help with your weekly meal planning and grocery shopping…check out all the printable resources!
Thanks to Andrea at Savings Lifestyle and Marcy at Stretching a Buck for posting the best deals and coupon matchups at my stores each week! All the BEST menu plans can be found every week at OrgJunkie.com!