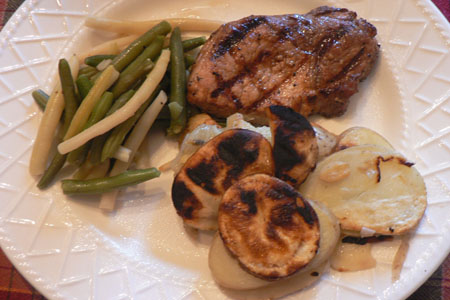 It is summer time and the living is easy. To compliment that concept, I love to prepare these easy and delicious potatoes for my husband to throw on the barbecue. Marinate some meat beforehand and dinner is ready to go.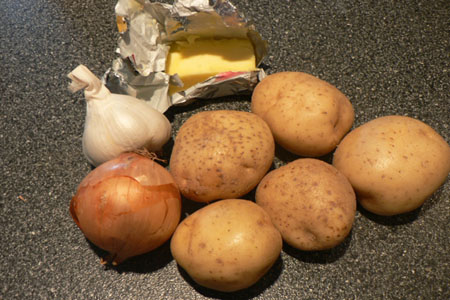 Ingredients
5

medium

potatoes

1

large

onion

6 cloves garlic

1 tablespoon butter

salt and pepper, to taste

2-3 pounds pork chops

2 tablespoons vegetable oil

3 tablespoons vinegar (whatever kind you like and have on hand)

Montreal steak spice (to taste)
Instructions
Preheat the barbecue to high.
Frugal Tip
Saver, know thyself! OK. There is a wonderful deal on chicken that is close to its expiry date. It is half off its already great price. You buy three chickens: One for dinner, two to marinate and freeze. What a deal. Yes, it is a busy week, but you can save so much money!
Only you get home and you already have dinner made. Oooops. So you put the chickens in the fridge to deal with after dinner. After dinner, you run out to take the kids to sports, after all the taxiing, you are really tired and go to bed early. The next day is a run around day. So it the next. Somehow, by the time you get to the chickens you got for such a great deal, they have already spoiled and you have to throw them away. Hmm, not such a great deal after all.
Really, when faced with such a great deal, I don't jump on it as often as I would have before. Not because I am not frugal, but because I am realistic. If I am realistically not going to be able to easily deal with the great deal, I pass it up and leave it for some other frugal person to take advantage of and I save myself some money after all.
Magda Stryk Therrien is a wife, mother and daughter who tries (and sometimes even succeeds) to be frugal.  She also loves to make things: dinner, artwork, books, crafts, etc. She is starting to blog about these efforts at magdamakes.wordpress.com and at magdamakeswithkids.wordpress.com.