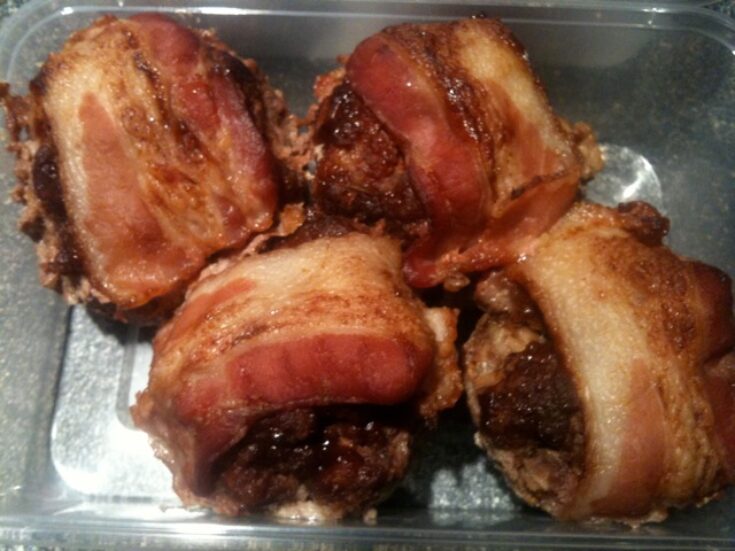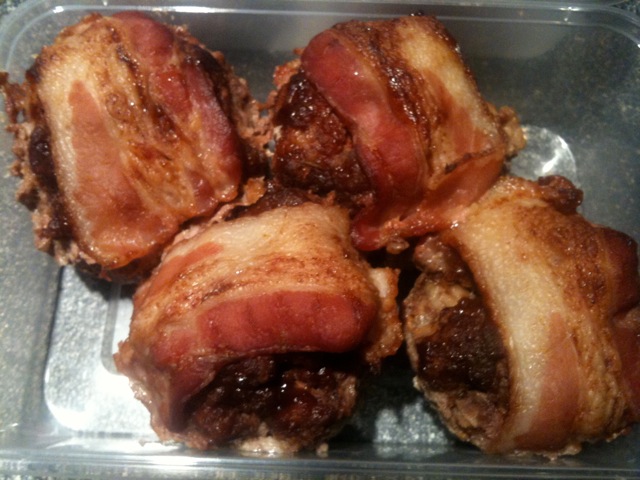 This recipe was suggested by my son. When asked what he wanted for his birthday dinner with the Grandparents, he said he wanted meatloaf and he wanted my bacon wrapped prunes for appetizers. After thinking about it for a few more minutes, he asked if I could wrap the meatloaf in bacon (we had had bacon wrapped chicken a couple of weeks before that). Hence a new recipe was born.
I made this moist and delicious meatloaf in two configurations: one large meatloaf served on the day of the party and smaller, individual meatloaves that went home with the grandparents to eat during the rest of week. Grating the vegetables adds moisture to the meatloaf making even yummier.
Ingredients
2

slices

bread

2 tablespoons milk

1/2 onion, finely grated

1/2 carrot, finely grated

2 cloves garlic, or 1 tsp minced garlic

1/2

cup

roasted red pepper, chopped

1 1/2 pounds extra lean ground beef

1 tsp Italian seasoning

2 eggs

1 tablespoon mayonnaise

1 teaspoon mustard

1/2

cup

plus 1 tablespoon barbeque sauce
Instructions
Shred the bread slices with your hands and soak in milk.

Finely grate the carrots and onion and finely mince the garlic and the roasted red pepper.

Combine the meat, vegetables, seasonings, spices, eggs, mayonnaise, mustard and 1 tablespoon of barbecue sauce, reserving 1/2 cup of barbecue sauce. (I find it easiest to mix the meat mixture well with my hands.)

Add the soaked bread. Mix well.

Shape the meatloaf on a pan or in individual muffin tin size portions.