I've been given the Kreativ Blooger award from Charlene and will now share 6 things I am thankful for!
1. My Faith in My God
2. My Hubs
3. My Kiddos
4. My Family
5. My Friends
6. All of YOU!
This year I want to carry the spirit of "Giving Thanks" to "Giving Back". There are so many things I am thankful for, and I want to share the blessing with others. And I want to encourage you all to do the same! God has impressed it on my heart to share this message this year. There is so much joy in giving during the holidays. I find great joy and satisfaction knowing that I gave to someone in NEED.
My challenge for you is to join Amy at Mom Advice in the Big Give …Or join in the $5 CVS Charity Challenge at Keeping the Kingdom First. Put your savvy shopping skills to the test, and then donate your purchases to a worthy cause!
My goal this year is to put together 5 packages for those in need. I will include in my packages items that I have purchased through my frugal shopping, items from my stockpile, items that will make another's holiday more joyful, as they don't have to worry about a meal or provisions. I have sent 2 packages to 2 dear friends in the Dominican Republic. I plan to put together a food basket to take to a nearby family in need. I will also send a package to the shelter in Amy's town. I also plan to send a box through Operation Christmas Child through my church.
So these economic times are tumultuous and money is getting tighter and tighter. This is a time when the last thing we want to do is give away those few extra dollars…Even this morning, I was driving my DS to his EI class, and had the "twinge"…I was thinking through my grocery list, my budget and couldn't seem to figure out where an extra $10 or $20 would come from. I decided I will trim the grocery budget this week and next, so that a sweet precious child in Africa can receive a few "needs" and "wants" this Christmas. I tell you that you will be richly blessed by your act of blessing others. The Lord loves a cheerful giver! (2 Corinthians 9:7)
If you feel so inclined, please leave a comment telling me 6 things you are thankful for AND telling us all how you plan to give this holiday season! May you be blessed in your giving this holiday season!
LENTIL MEATLOAF
So, it looks like we are going to GF indefinitely…so this blog will now have GF dinner recipes for under $5! I will include the "non-GF" ingredients when necessary. And I might throw in a GF baking recipe here and there as I experiment!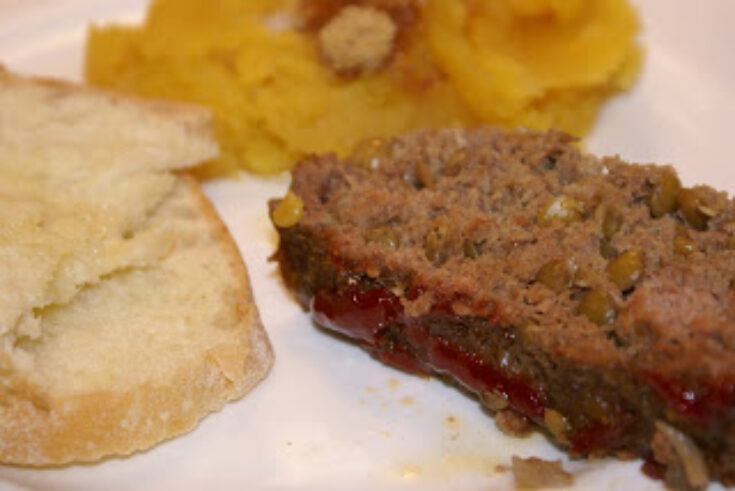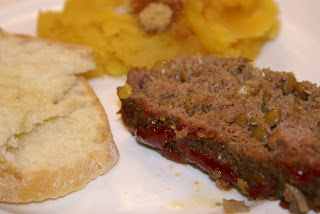 This recipe is inspired by a friend! I'm giving it a try…we'll see how it turns out! No bread crumbs when on a GF diet…and I haven't bought any GF bread to make my own, and any GF breadcrumbs (too expensive!)…
Ingredients
1.5

lb

ground beef ($2.24)

1

cup

leftover BBQ lentils (Free)

1/2

cup

sour cream ($.25)

1 egg ($.12)

Ketchup ($.25)

Salt/pepper, paprika and garlic powder ($.10)

Acorn Squash ($.69)

Butter/Brown Sugar ($.25)

2

slices

Italian loaf bread, 2 GF apple muffins ($.50)
Instructions
Mix ground beef, egg, sour cream, lentils, salt and pepper, spices in mixing bowl.

Place meat mixture into 9x5 loaf pan. Sprinkle ketchup in a cool design along the top! Sneak in some veggies on this one...finely diced green peppers or shredded carrots would be easy to add in!

Bake at 350 degrees for 50-60 minutes or until cooked through.

Slice acorn squash in half. Bake upside down in baking dish with 1/4 inch water at 350 for an hour. Cover with foil for super tender squash. (See more details here!)

Serve up the meatloaf with some ketchup and butter/brown sugar for the squash if you like!