Update: This giveaway is now closed!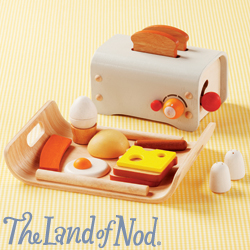 Wouldn't it be nice to wake up, snuggle with your little one for a bit, and then request a breakfast in bed???? 
With this adorable breakfast in bed play set from Land of Nod, you can do just that!  And maybe even catch another 2 or 3 minutes of sleep while little feet patter off to prepare your breakfast!
This week I'm giving away 1 Breakfast in Bed Play Set from Land of Nod.  Entry details below!
Giveaway Details
1. Contest ends Tuesday, November 3rd at 10 pm EST. Winners will be announced back here on this post, and notified via email with further instructions.
2. Entry #1: Leave a comment just saying you want to win.
3. Entry #2: Leave a SEPARATE comment telling me in what way you promoted this contest (i.e., posting it in a forum, posting about it on your blog, Tweet about it, emailing all your friends, and/or subscribe to my feed by email or in a reader).
4. Entry #3: Leave another SEPARATE comment answering the following question: What tips do you have for getting your kiddos to help out and participate in meal time?  For meal prep?  For dinner table prep?  For clean-up?
5. Winner will be selected by Random.org.
**NOTE: If you receive the email newsletter and wish to enter this giveaway, click on the title of this giveaway to get to the site and leave a comment on the site with your name and email address to be entered!
*Disclosure: I did not receive any products or compensation associated with this giveaway.