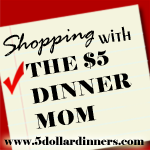 Just as I've come to expect…after a heavy sale week or Mega Event, the following week or two are not the greatest for stockpiling. This week was just a "get what we need" week at the grocery store.  The usual produce and almond milk, a box of cereal…some special fruit leather treats…and some marked down boneless skinless chicken thighs!
Also, I'll be stopping into CVS one of these afternoons to get the $1.99 Filippo Berio Olive oil!
Kroger
*HOT DEALS*
$1.99 Wisk – $3.99 sale, used $2/1 coupon in this week's newspaper
$1.49 Sister Schubert's rolls – would have been $.99 each if I'd participated in the Frozen Mega Event – coupon
Meats
2 Manager's Special boneless skinless chicken thighs! Woot!
Brats…for the husband…who is now grilling his lunch at work!
And I discovered a bag of groceries with the cole slaw, baby carrots and a couple apples on the coffee table that didn't make it into the picture.  Likely Charlie left it there, after realizing he couldn't lift it up to the countertop!
Total spent at Kroger: $66.24

Total for the month: $154.76 + $66.24 = $221

My grocery store's ad scan and my "Shopping FAQ!"
Thanks to Andrea at Savings Lifestyle and Marcy at Stretching a Buck for posting the best deals and coupon matchups at my stores each week! Find the coupon match-ups for your grocery store at The Frugal Map!