Kroger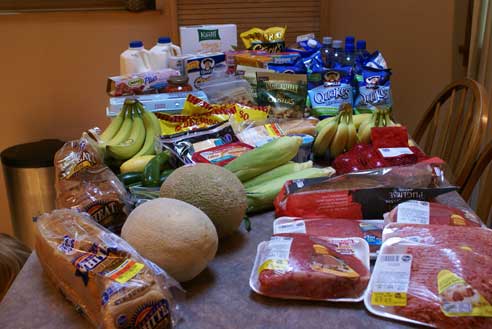 *HOT DEALS*
FINALLY, a sale on beef roasts! $2.49/lb.  I grabbed 3…plus 2 packages of ground beef ($1.39/lb.)
Plus Kroger ran the 10 item Mega Sale again this week, so I grabbed some Propel fitness water for Hubs (he's training for a marathon), and more rice quakes…both $.49 each after promo!
Free – Box of Kashi cereal (coupon from Vocalpoint)
Produce – Amazing produce sales continue!
Coupons Used – $5/$50 Kroger purchase, 2 $1 Motts applesauce, 2 $1 NV Granola Clusters, $1/2 Quaker granola bars from Kroger mailer, $.50 off Kroger PS Artisan bread (for the paninis!) from Kroger mailer, $1 Stacy's Pita Chips
Manager's Specials – 1 loaf of bread, 2 french loaves
Total spent at Kroger: $64.17
In a moment of SHEER swine flu paranoia (don't ask, I'm over it now and wish I hadn't spent that $4!), I stopped in to CVS to grab some hand sanitizer and handy sanitizer wipes.  Somehow a few FREE bars of Reese's PB Cups ended up in the basket (on sale 2/$1…used this Sunday's $.55 coupon!). 
Total $4.28 OUCH!
In a moment of "I MUST take advantage of this wipes deal," I popped into Walgreens last Saturday when I was sans kiddos.  I grabbed 2  boxes of Huggies wipes for $.49 each, plus 2 cans of mushrooms for $.49 each. 
Total $2.38
Total for the week: $70.83
I stashed the leftover $10 from this week into my "farmer's market pick your own tomato fund!"