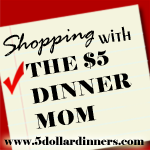 We're off to TX later in the week, so I didn't need much…just a few things to tide us over.
And yes, those are frozen dinners for Steve…for when we're away.  There are some meals prepared for him in the freezer…but not enough to cover while we're in TX. So I figure a few frozen dinners for $1.88 a piece beats a few dinners out for $10 a piece. Right?!?
(And if you're curious why we'll be in TX…I grew up there and we have LOTS of family and friends there!)
It has nothing to do with the fact that it's below freezing here in OH…and it's warm, sunny and 70 in TX.
Nope. Nothing at all. (said with a facetious tone.)
Kroger
Total spent at Kroger: $42.03

Walgreens
1 pack Huggies $8.99 – $2/1 Coupon = $7.99 plus got back $3 RR
2 containers of Wet Ones – on sale 2/$4 – 2 $1.50/1 coupons = $1 plus got back $1 RR
Total spent at Walgreens: $8.90 plus $4 RR to use nest week

Total for the week: $50.93
Total for the month: $118.87

My grocery store's coupon match-ups
Find the coupon match-ups for your grocery store at The Frugal Map!
This post may or may not contain affiliate links. More information can be found on the site's disclosure policy.