A common question that I get from friends and family, and also from Renee…
What do your kids do while you are making dinner?
Here are a few examples…
(Please pardon the iphone photos.)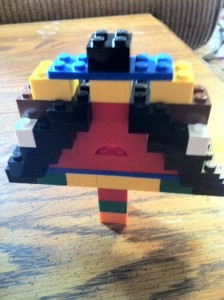 They play with little legos.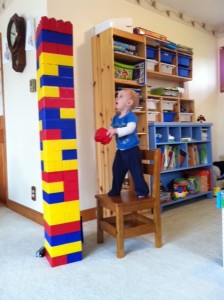 They play with big legos.
(And no, our playroom is rarely this organized.  We had just had the carpets cleaned…yeah Groupon!…and I had it all picked up and organized when they came. The next morning, this lasted about 11 minutes. As soon as that tower was knocked down, it was all downhill for the organized state of the playroom.)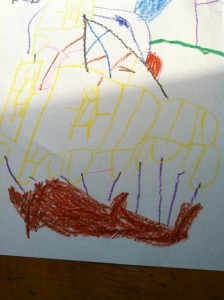 They color at the kitchen counter or at their table in the playroom.
They play trains. They work on puzzles. We play spelling and word games.
Ryan reads his school reader.
Charlie challenges himself with puzzles.
And Tyler is normally sitting in his chair at the table, having a small snack or appetizer.  Because if he's not in his chair, he's probably off doing something like this!  He is quite the climber and has been named "monkey boy," as I don't think there is a (3 foot off the ground) surface that he hasn't figured out how to climb on top of. I'm waiting for the day when I find him on top of the fridge. I wouldn't put it past him!
And now I'm going to find some lead weights to attach to his shoes…although I don't think that will stop him!
What do your kids do when you are cooking dinner?! How do you cope with the so called "witching hour" of 4-6 pm?! What constructive activities do you get them working on so you can focus on getting them fed?!