Update: This giveaway is now closed…winners will be announced soon!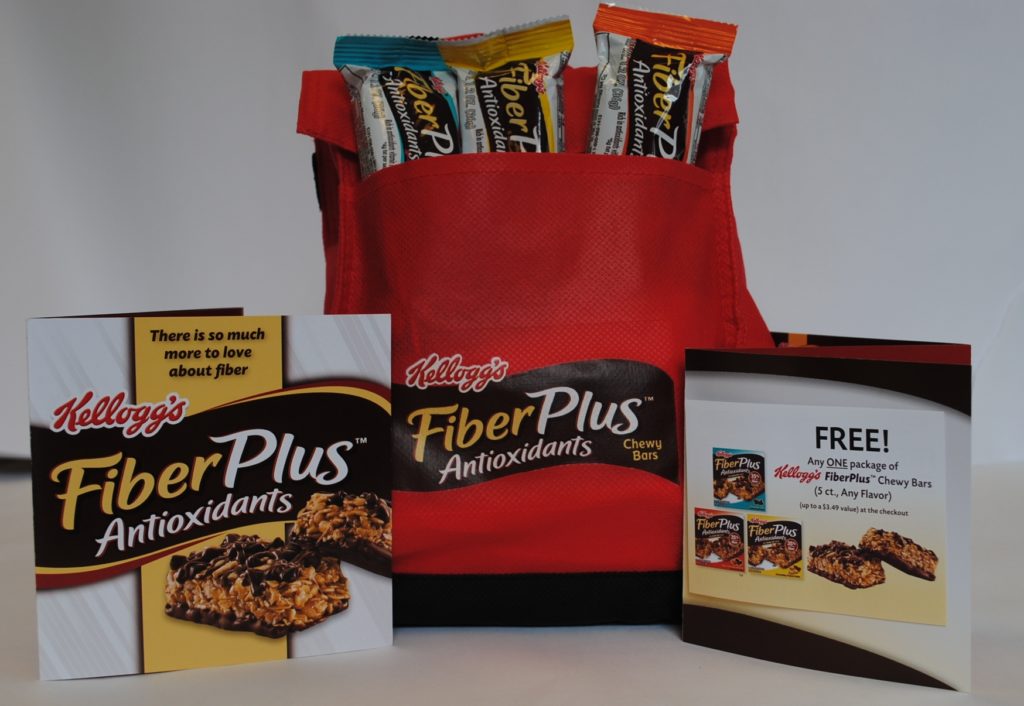 Are you getting enough fiber in your diet?!  Why not get the fiber you need while eating something you love?!
Kellogg's FiberPlus™ bars are a great way to make good nutrition sweetly satisfying with lots of fiber and antioxidants Vitamin E and Zinc. They come in three delicious flavors—Chocolate Chip, Dark Chocolate Almond and Chocolatey Peanut Butter.
(You had me at chocolate. And dark chocolate. And peanut butter chocolate.)
(Said in a Renee Zellweger, Jerry McGuire kind of voice.)
The birthday giveaway bash continues…and it's time for snacks!!!
Today we're giving away 14 Kellogg's FiberPlus™ Bars gift packs!
3 Kellogg's FiberPlus™ Bars – variety of flavors
Free Item Coupon for 1 box of Kellogg's FiberPlus™ Bars
Red Lunchsack
Twitter Giveaways – #fiberfriday
If you are active on Twitter, you can win a box of  Kellogg's FiberPlus™ Bars as part of #fiberfriday.  Be one of the first 25 people to send a message to @LadyFibarista with the hashtag "#fiberfriday" starting Friday at 12 p.m. EST.
Once the first 25 entrants are determined, @LadyFibarista will send a direct message to the winner at their Twitter account and collect their name and mailing address so they can receive their prize. Winners will receive one full-value coupon for a free box of Kellogg's FiberPlus™ bars.
The Fiber Friday giveaway will continue every Friday of each week up through November 19, 2010. So, anyone who's interested has plenty of time to participate!
And now for the gift pack giveaway details…
Giveaway Details
1. Contest ends Saturday, August 21st at 11 am EST. Winners will be announced back here on this post, and notified via email with further instructions.
2. Entry #1: Leave a comment answering t one or all of the following question: How much fiber are you supposed to consume each day?! Are you getting enough?! Why do you want to try a FiberPlus bar?!
3. Entry #2: Follow me on Twitter and Follow @ladyfibarista on Twitter, and leave a separate comment.
4. Entry #3: Become a Facebook Fan, or subscribe by email or in an RSS reader! Be sure to leave another comment for your third entry.
5. Winner will be selected by Random.org.
**NOTE: If you receive the email newsletter and wish to enter this giveaway, click on the title of this giveaway to get to the site and leave a comment on the site with your name and email address to be entered!
Kellogg's FiberPlus™ Giveaway Rules
*Disclosure: I got to sample these bars…and yum!