Last week, I had the opportunity to run with Jared from Subway, last year's NYC marathon winner Meb, and 3 other amazing bloggers.  It was such a blast and I took away so much from our time together!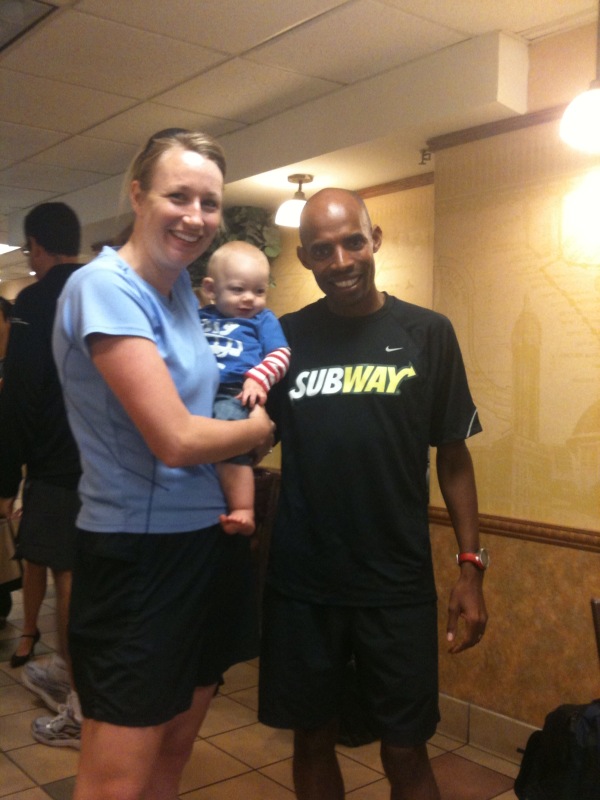 I'm so excited to be working with Subway on this campaign…because I get to encourage and inspire you all to get fit, live healthy lifestyles and eat great food for less too! (For the record, Subway is one of our favorite quick take-out dinners.  Healthy and inexpensive, and we all love it!)
Update on my Commit to Fit: I'm still training for the SA Half Marathon in November.  Last Saturday, I intended on running 6.5 miles.  Instead I ran 7 miles first thing Sunday morning.  It was cold, my skin was red, but I had a great run.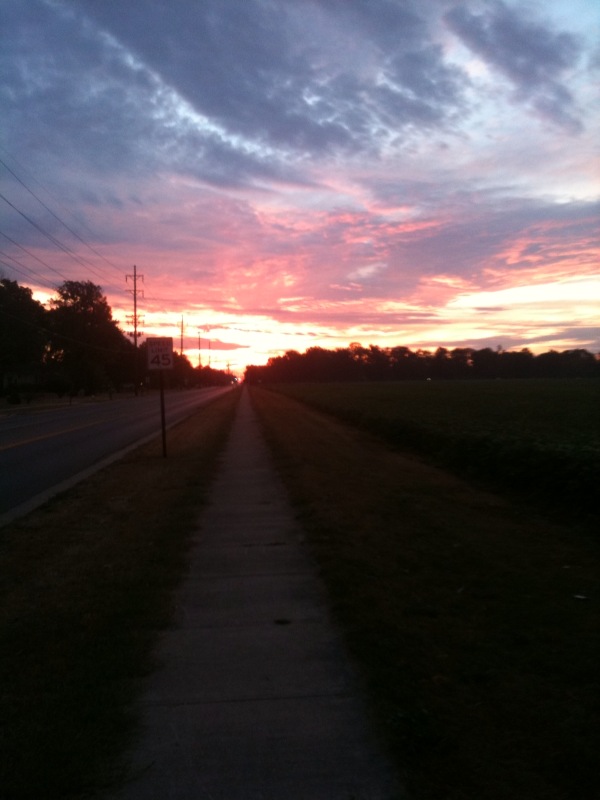 And what a sunrise, huh?!!!
I have a new love for running early in the morning.  Especially on Sunday mornings.  It's so quiet. It's at least 10 minutes before I see any cars.  I don't see any other runners. I can enjoy the peace.
I'm planning a shorter 4-5 mile run this Sunday, because I haven't had much time to workout this week…being in New York for 3 days, then Detroit.  I've got time scheduled at the gym and for a few outdoor runs next week, so I'm looking forward to a more regular training schedule.
Commit to Fit Fridays
Over the next few Fridays in October, I'll be updating everyone on my training progress, as well as providing you with some amazing giveaways.  These giveaways are designed to help get you started onto the path of living a healthier lifestyle and to commit to fit! Subway is making it all easier for you.
We'll be giving away something that has an i, a pod, and it's sure to ruffle some feathers. (And we haven't forgotten the tunes and the i, either.)  Also, some we'll be giving away some good old fashioned green…to help you pay for a gym membership, or register for a 10K…whatever, we want to help foot the costs for you!  There will be some other goodies…so pay close attentions on the upcoming Fridays.  Giveaways will start first thing Friday morning and end 24 hours later…so you gotta be quick! Giveaways start next week.
Thanks for joining us on this journey to a healthier lifestyle…as we Commit to Fit!
*Disclosure: Subway did pay for my travel arrangements for the trip, as well as provide the products that I'll be giving away over the next few weeks. Thoughts, opinions are mine. And yes, Subway is really our favorite take-out spot. (We especially love their rewards program and the free footlongs!)