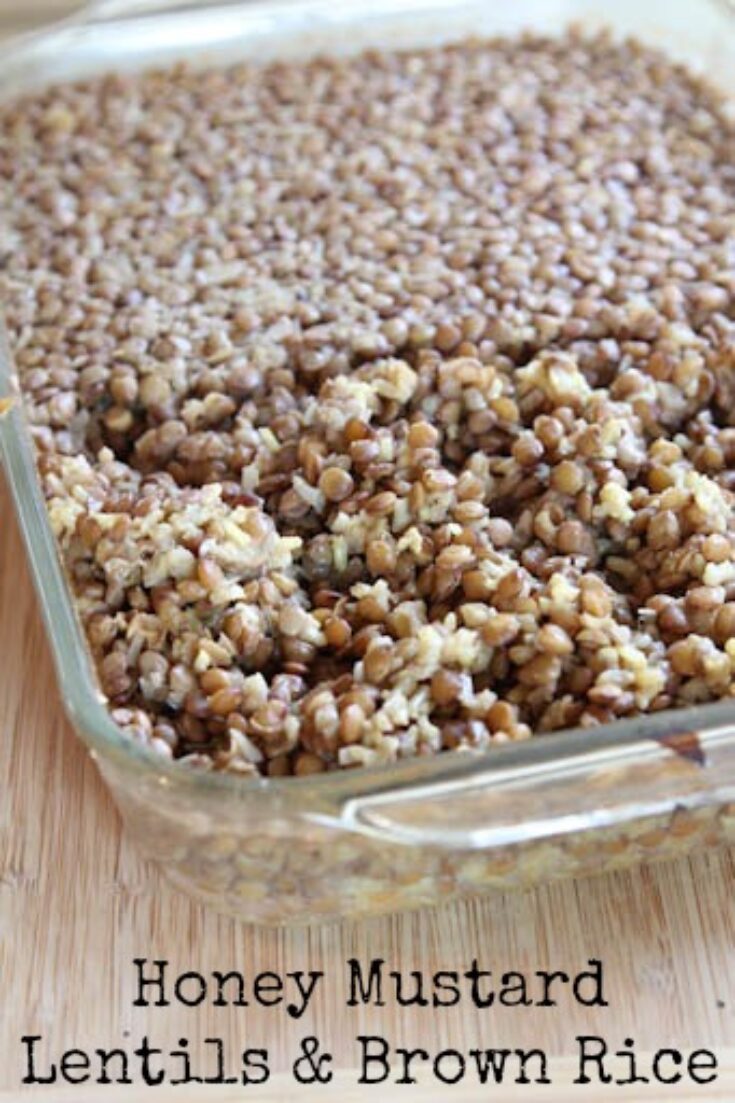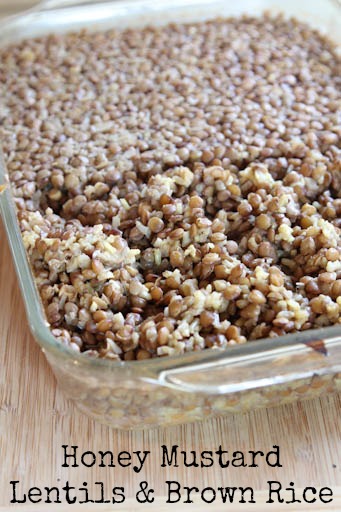 What's with the crazy half-fluffed photo, Erin?
I know that's what your thinking. I haven't lost my mind. Well…since this cooking method is probably a new concept for many of you, I decided to just fluff half of the dish before snapping the photo so that you can see what it will look like when it comes out of the oven. And what it will look like once it's fluff-ified.
The flattened part in the back of the dish is what it looks like when it comes out of the oven and you pull back the foil.
I love these kinds of casserole not only because they are CHEAP!…but also because are simple to prepare. (I promise…it may sound foreign, as it's a new method for you, but it's really simple. I'll walk you through it.)
Add the lentils and brown rice to the bottom of a 9×13 inch baking dish.
Add the spices, seasoning.
Pour the hot water over the top
Mix up the honey and mustard in a bowl.
Drizzle the honey-mustard over the lentils and rice. Cover TIGHTLY with foil.
Bake.
Fluffify and serve.
Wander off and take care of whatever you need to take care of…come back in an hour and dinner is done.
See, told ya…simple.
Your turn to give it a try…let me know what you think!
Tangy, sweet and filling!
Ingredients
1

lb.

green lentils

1

cup

brown rice

3

Tbsp

minced onion (or 1 cup chopped fresh onion)

1

tsp

garlic powder

1

tsp

salt and pepper, each

1/2

cup

mustard

1/3

cup

honey plus drizzles

Vegetables or side salad for side dish
Instructions
Preheat the oven to 350.

In a 9x13 inch glass baking dish, gently combine together the lentils, brown rice, minced or fresh onion, garlic powder and salt and pepper.

Pour 7 cups of HOT water carefully into the dish and gently stir so the rice and lentils into the water.

In a small mixing bowl, combine the mustard and honey. Scrape and drizzle over the lentils, rice and water and gently stir in. Cover the dish tightly with foil, so little steam will escape.

Bake in the preheated oven for 60 minutes, or until rice and lentils are soft. (If using white rice, bake for 30 minutes.)

Before fluffing and serving, drizzle a little more honey over the top and then fluff.

Serve Honey Mustard Lentils and Brown Rice with side of veggies or salad.