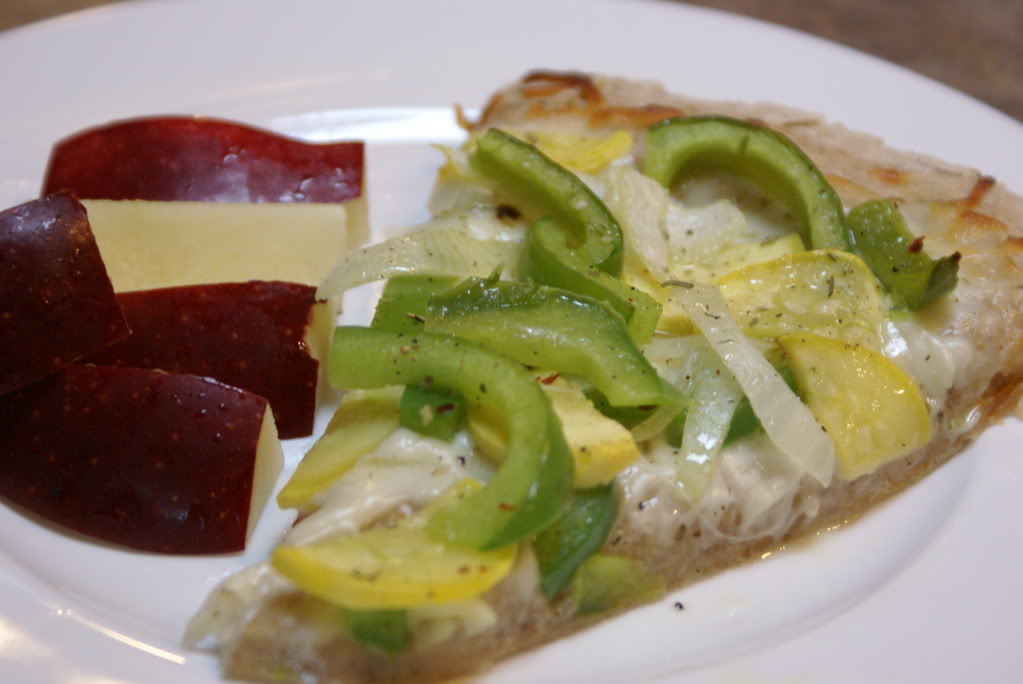 Homemade Veggie Pizza

Yield – 4 servings

Preparation Time – 65 minutes

Cooking Time – 15 minutes

Ingredients

1 cup plus 2 Tbsp warm water
1 tsp olive oil ($.03)
1 cup whole wheat flour ($.20)
2 cups white flour ($.28)
1 packet or 1 Tbsp yeast ($.25)
1 tsp sugar ($.02)
1 tsp Italian seasonings ($.05)
1 green pepper ($.68)
1 small yellow squash ($.54)
1/2 onion ($.15)
1/2 cup olive oil salad dressing ($.25)
2 cups shredded mozzarella cheese ($1.50)
2 apples ($.50)

Directions

Prepare dough in bread machine, by adding the water, olive oil, flours, yeast, sugar and seasonings in that order to the bread machine. Set cycle to dough.
Slice green pepper, squash and onion into "pizza topping" sizes.
Once dough cycle is completed, remove dough and place on floured surface. Knead and roll out with floured roller to fit onto pizza pan. (I used my 16″ pizza baking stone.)
Spread olive oil dressing over the pizza dough. (You could certainly use pizza sauce, but it didn't sound appetizing to me tonight!) Top with shredded mozzarella and then place sliced veggies over the cheese. Bake at 400 for 15 minutes.
Slice apples.
Serve Homemade Veggie Pizza with sliced apples.
Cost $4.55