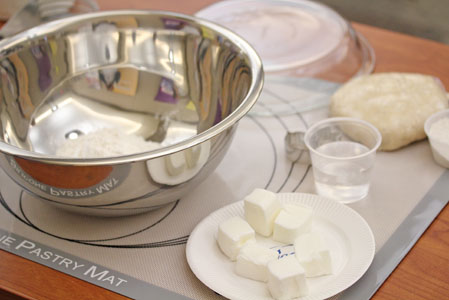 I learned something about homemade pie crusts recently.
Most people are scared of them. And completely overwhelmed with the thought of making a homemade pie crust.
Huh. Really?
I want to know…are you overwhelmed by the thought of making your own pie crust? Have you ever considered skipping past the pre-made rolled crusts from the store? Or you an old pre at homemade crusts?
I've been making my own pie crusts for over a decade now. And yes, there was a point where I thought it crazy. Until I made one. Tasted it. And vowed only to go back on rare occasion when I'm in need of a little convenience.
Two weeks ago, I had the pleasure of visiting the Smuckers headquarters for the second time. They brought the original group of bloggers back to Orville, along with a few others. And they put us to work. (And they fed us too…but we're not going to talk about the 3 pounds I gained in the 16 hours I was there.)
One of our workshops was homemade pie crusts. What fun!
I've shared my 7 tips for making the perfect pumpkin pie…and I'd like to add 2 more tips to my list…both of which I learned and put to the test during the pie crust 101 class.
#8. When cutting in the dough, you want mostly crumb-y size pieces, but you also want some larger pieces of the fat/shortening. The larger pieces will then get rolled out into the crust, causing it to be flakier.
#9. Don't over-knead the dough. After you've cut in the butter and you fold it together into a dough ball, don't over-knead. Just form it into a loose ball and wrap it in plastic warp and place in the fridge.
If you're thinking about making your own crust for your Thanksgiving pies for the first time, don't fret. If you have questions, please leave them in the comments…or on the $5 Dinners Facebook wall. We're here to help!
Ingredients
1 1/3 cups Pillsbury BEST All Purpose Flour

1/2 teaspoon salt

1/2 stick well-chilled Crisco Baking Sticks All-Vegetable Shortening

OR 1/2 cup well-chilled Crisco All-Vegetable Shortening

3 to 6 tablespoons ice cold water
Instructions
BLEND flour and salt in medium mixing bowl.

CUT chilled shortening into 1/2-inch cubes. Cut in chilled shortening cubes into flour mixture, using a pastry blender, in an up and down chopping motion, until mixture resembles coarse crumbs with some small pea-sized pieces remaining.

SPRINKLE half the maximum recommended amount of ice cold water over the flour mixture. Using a fork, stir and draw flour from bottom of bowl to the top, distributing moisture evenly into flour. Press chunks down to bottom of bowl with fork. Add more water by the tablespoon, until dough is moist enough to hold together when pressed together.

TIP Test dough for proper moistness by squeezing a marble-sized ball of dough in your hand. If it holds together firmly, do not add any additional water. If the dough crumbles, add more water by the tablespoonful, until dough is moist enough to form a smooth ball when pressed together.

SHAPE dough into a ball for single pie crust. Divide dough in two for double crust or double deep dish crust, one ball slightly larger than the other. Flatten ball(s) into 1/2-inch thick round disk(s).

TIP -For ease in rolling, wrap dough in plastic wrap. Chill for 30 minutes or up to 2 days.

ROLL dough (larger ball of dough for double crust pie) from center outward with steady pressure on a lightly floured work surface (or between two sheets of wax or parchment paper) into a circle 2-inches wider than pie plate for the bottom crust. Transfer dough to pie plate by loosely rolling around rolling pin. Center the rolling pin over the pie plate, and then unroll, easing dough into pie plate.

Trim edges of dough leaving a 3/4-inch overhang. Fold edge under. Flute dough as desired. Bake according to specific recipe directions or use one of the methods below.