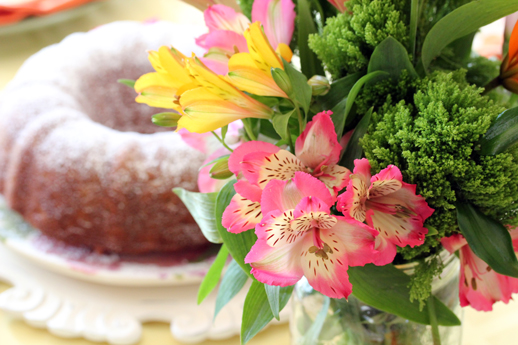 I absolutely love how flowers brighten your mood. The sights and scents of fresh flowers can bring a smile to anyone's face. And there's no better way to celebrate Easter with family than with fresh flowers in the middle of the table. And some delicious food on the table too!
When putting together our new Easter table design, I wanted to have a fresh floral centerpiece with a combination of bright colors for the tablecloth, plates and dessert plates. With a variety of colors like canary yellow, lime-ish green, bright orange, magenta pink, and soft pink, the fresh flowers, the table colors and the floral design on the dessert plates worked together beautifully.
I really do think that the Spiced Pear Sour Cream Bundt Cake (pictured above and below) tasted all the better because it was served on a bright, happy, colorful floral dessert plate. (Now don't get me wrong, it would taste fabulous on a plain old white dessert plate.)
It's just that the flowery dessert plates make your heart happy, while the cake leaves your taste buds and stomach feeling delightful as well.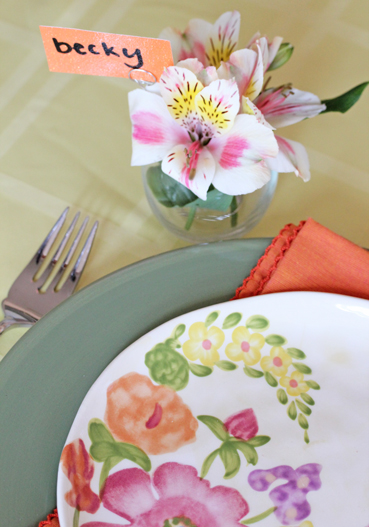 I pulled the table together by using a few of the blossoms from the Alstroemeria bunches that I picked up at a nearby "discount" florist. (Quick note about the florist: They have a large refrigerator room where they keep a bunch of flower varieties and you can go in there and pick and choose and make floral centerpieces for a fraction of the cost! I took Charlie with me to pick out the right flowers and he was intrigued by the willow branches in the giant cooler room.)
So back to the Alstroemeria…I used several blossoms in the centerpiece on the table and then used some blossoms to adorn the cake, and I also placed three blooms into small votive candle holders that acted as place card holders. I used some thin, but heavy, crafting wire to set up the place cards next to the flowers.
If you are in need of something for your kids to do while you prepare the food for dinner, you could have them cut, color, decorate and write names on the place cards. The kid-made place cards always makes for great conversation starters.
I am so grateful to have a new Easter table design that I can use both this year, and for many years to come!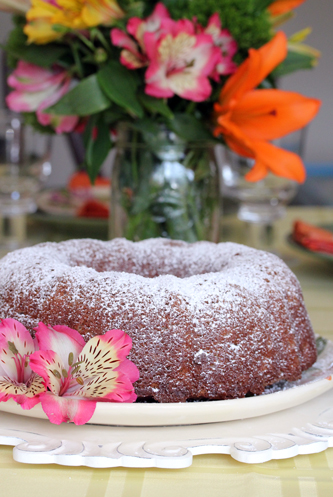 Disclosure: This is a sponsored post for Breakstone's Sour Cream. All ideas, thoughts, experiences, photos are my own.