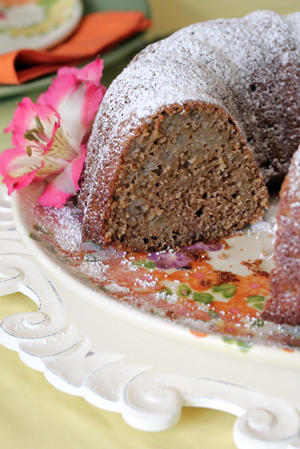 I just love how Breakstone's wants to help us make their next holiday celebration easy, fun, and delicious. I love how they have created such an amazing resource for creating a beautiful and simple holiday meal. I've spent quite a bit of time on the site looking for fun new ideas and recipes to try this Easter.  I'm thinking that the Cauliflower and Broccoli Au Gratin would make a lovely side dish on the table, followed by my Spiced Pear Sour Cream Bundt Cake for a light and fluff-ilicous dessert!
If you're looking for a little creamy inspiration for your Easter table, then please check out the Peppered Pork Loin with Sour Cream and Onion Sauce and the Prosciutto Wrapped Asparagus Bundles with Sage Infused Sour Cream …created by my fellow Breakstone Bloggers. YUM!
Also, stop by and see what other fun recipes you might want to try this Easter holiday on the Breakstone's Holiday Recipe Page.
I have had so much fun, getting to come up with a fun new dessert recipe for Easter…and getting to play with flowers and plates and fun bright colors.  I'm so grateful for this challenge! I hope you'll give it a go too…you can enter the Breakstone's Holiday Sweepstakes.  Simply share your favorite Easter holiday traditions, and you'll have the chance to win some sweet prizes. Prizes include a weekly $50 gift card and a grand prize (value of $2,500)!
Wahoo!
It's time for your Holiday Table Dreams to come true!
Disclosure: This is a sponsored post for Breakstone's Sour Cream.  All ideas, thoughts, experiences, photos are my own.