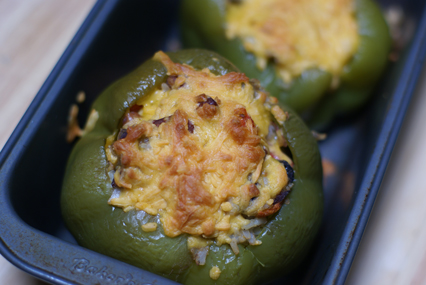 Thought I'd replace the traditional beef in Stuffed Green Peppers with some black and red kidney beans instead. And I'm glad I did! The "filling" is so delicious and fresh…and it be great rolled up in a tortilla for lunch.
(That's what I'll be having for lunch tomorrow.)
Ingredients
1

cup

brown rice ($.40)

1

small

yellow onion, finely chopped ($.30)

2

large

tomatoes, diced ($1.20)

1 4 oz. can diced green chilies ($.59) Substitute the fresh tomatoes and green chilies with 1 15 oz can of diced tomatoes with green chilies

2

cups

cooked black beans ($.40)

2

cups

cooked red kidney beans ($.40)

1 tsp ground cumin ($.05)

Salt and pepper, to taste

4 green peppers ($1.20)

Few pinchfuls of Shredded cheddar cheese ($.50)

1

bag

frozen corn ($.88)
Instructions
Cook the brown rice as directed on the package. (Takes about 45 minutes.) Substitute white rice if desired.

To the cooked brown rice, add the chopped onions, diced tomatoes, green chilies, cooked black beans, cooked red kidney beans, ground cumin and salt and pepper (to taste).

Slice the stem out of the top of the green pepper and place in a pot with boiling salt water for 5 minutes. Remove from water, then stuffed with the filling. Top with a pinchful of shredded cheese.

Bake at 350 for 20-25 minutes, or until the cheese has melted and is bubbly.

Cook the corn as directed on package.

Serve Double Bean Stuffed Green Peppers with Corn.(Note: I had a few extra smaller green peppers in the fridge...so I made Stuffed Bite Size Peppers for Steve to take to work for lunch!)

Top with some shredded cheese, then freeze. Thaw in the fridge overnight, then reheat in the oven long enough to melt the cheese before taking to work.