My plan and answer to "Working parents – what will your kids do for virtual learning while you are working?"
I want to kick this off and say…this is all just impossible, and challenging, and difficult.
There are a million different scenarios that we find ourselves in and below I want to discuss and address how I plan to manage working and having my boys home from school.
Also, I want to equip you with a few tools, podcasts, and resources that we have available to help you in this tough season.
When school switched to distance learning in the spring, I quickly adjusted my mindset and schedule to make it all work. Some days were amazing and other days we barely squeaked by, but we did it.
I've spent all summer thinking, praying, and reflecting on what went well and what I/we need to do better….in the event that we don't go back to on-campus learning in the fall or any other time during this 2020-2021 school year.
I want to share that with you here so that you can:
see that you're not alone.
feel equipped and inspired.
try a new schedule and/or mindset to help get you through this.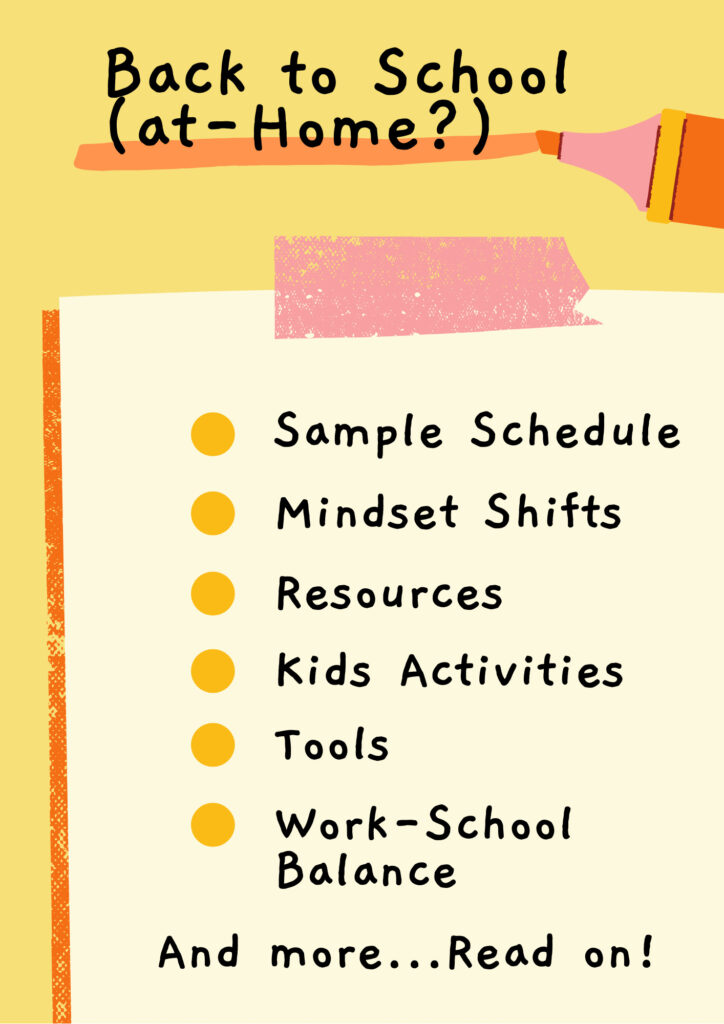 Please note that this is MY schedule and plan that I've worked out with my husband and with my boys. Use it, adapt it, take a piece and toss the rest. It doesn't matter to me how you use it, but I want you to be inspired by it.
Given the unprecedented nature of all of this, I want to remind you that there are no rules here. There is no right or wrong way to do this. All that you need for yourself and your family is to do your best. Whatever that looks like – there is zero judgment from me. You have to do what you have to do to get through this – however creative you have to get.
For us to execute this plan, it is going to take grit, discipline, and a.l.o.t. of communication. It will be riddled with moments of failure (just being real!), but this will be the framework and boundaries that we create as a family as we walk this uncertain path.
Two concepts you will hear throughout:
Be intentional.

Be prepared.
Things are still so uncertain right now. Like, don't-even-know-what-tomorrow-will-bring kind of uncertain. And that uncertainty is maddening, and exhausting, and draining.
Despite all the fuzziness that exists these days, I will continue to stay positive and focus on the silver linings and being prepared and one step ahead. Because that's how I roll in survival mode.
I still want to feel like the QUEEN of being prepared.
No, I NEED to feel and BE prepared.
I WANT and need to be "one step ahead" – of my work schedule and project list, what's happening with schoolwork for the boys, supervising chores, prepping dinner, etc.
I have lived this way for YEARS…no, decades.
I'm living it out through this pandemic…all the feels and the grief, and also staying intentional and focused on being prepared.
I created tools for myself, and they are available for you too. To help specifically with make-ahead dinners, and with teaching your kids how to cook. To help get us all on the same page with schedules and schoolwork vs. work time.
I recognize that there will be many times where I don't feel like doing something in the moment. But I will be committed to being both intentional and balanced.
Some of those moments will require rest, while other moments will require grit and power to get through. I pray for discernment, so that I can maintain balance and flexibility.
Finally, before we get to the resources and schedule…
Please create and build in margin into your schedule.
By margin, I mean flexibility. Limit your deadlines (if you can!) Work ahead so that deadlines don't sneak up on you. Allow yourself time to rest and grieve. Provide space to journal, meditate, and reflect. Leave room for your own self-care, as well as the care of your people.
Yes, it's a tough balancing act…but…think about the oxygen masks on an airplane.
Put your own mask on first………so that you can assist those who need it.
Put margin and space into your distance learning-work schedule…so that you can assist those and yourself when you need to.
First.
If you haven't listened to this episode of The Erin Chase Show, it is a MUST LISTEN as we step back into the back to school season of uncertainty.
Second.
Your New Life Changing Dinner Strategy (a.k.a. MyFreezEasy Freezer Meal Plans)
I've gathered all my best and favorite freezer meals for Back to School, and then used the MyFreezEasy app to pull them together for you.
Within these plans are DINNERS THAT COOK THEMSELVES.
That's right. You toss the ingredients in a bag and then toss into the freezer. Then on cook day, your slow cooker does all the work for you. Except the dishes. The slow cooker won't do your dishes. (If only. SIGH.)
Also in these meal plans you'll find simple ingredients and easy to follow instructions. When I say easy, I MEAN EASY. Easy is even in the title, that's how easy it is.
My-Freez-EASY.
The sample freezer meal plan is totally free…and there is an option to order the bag holders and our Quick Start Guide at a massive discount and with free domestic shipping.
Third.
Sports cancelled. Activities cancelled. Your afternoons are suddenly a little lighter than normal.
But as we learned in the spring, that quickly turns into "MOM, I'M BORED" or worse, the "how many hours have you been on Fortnite today." (Hello, mom guilt.)
I have the perfect after-school activity for your kids that will benefit you in more ways than you realize.
Whis-Kid Cooking Lessons!!!
If you don't know yet, Whis-Kid is my new, innovative kids cooking curriculum. It was whipped up after many weeks of live cooking lessons with my boys on Facebook Live in the Spring, and my hope is that you'll use it and let me teach your kids to cook too!
Which circles me back to that uncertainty. I don't know what this school year will look like during this pandemic, but I do know that routines are crucial for people of all ages. I'm sticking to the routine you will see below, as well as this one…and that is spending some time guiding them in this important life skill of cooking up confidence in the kitchen.
I will say this…the kids cooking lessons that we did together in the Spring were an incredible "anchor" to our days and the routine nature of the lessons ended up being such a gift to us in those emotional, early days of the pandemic.
Plus…I HAVE NOT COOKED BREAKFAST OR LUNCH FOR THE BOYS SINCE MARCH.
Seriously.
They cook for themselves and for each other and it is THE BEST.
Three options for you, if you're ready to get whisked away into cooking adventures for your sweet little cherubs. These options are also for the bigger, slightly stinkier sweet teenage cherubs in your home too! 😉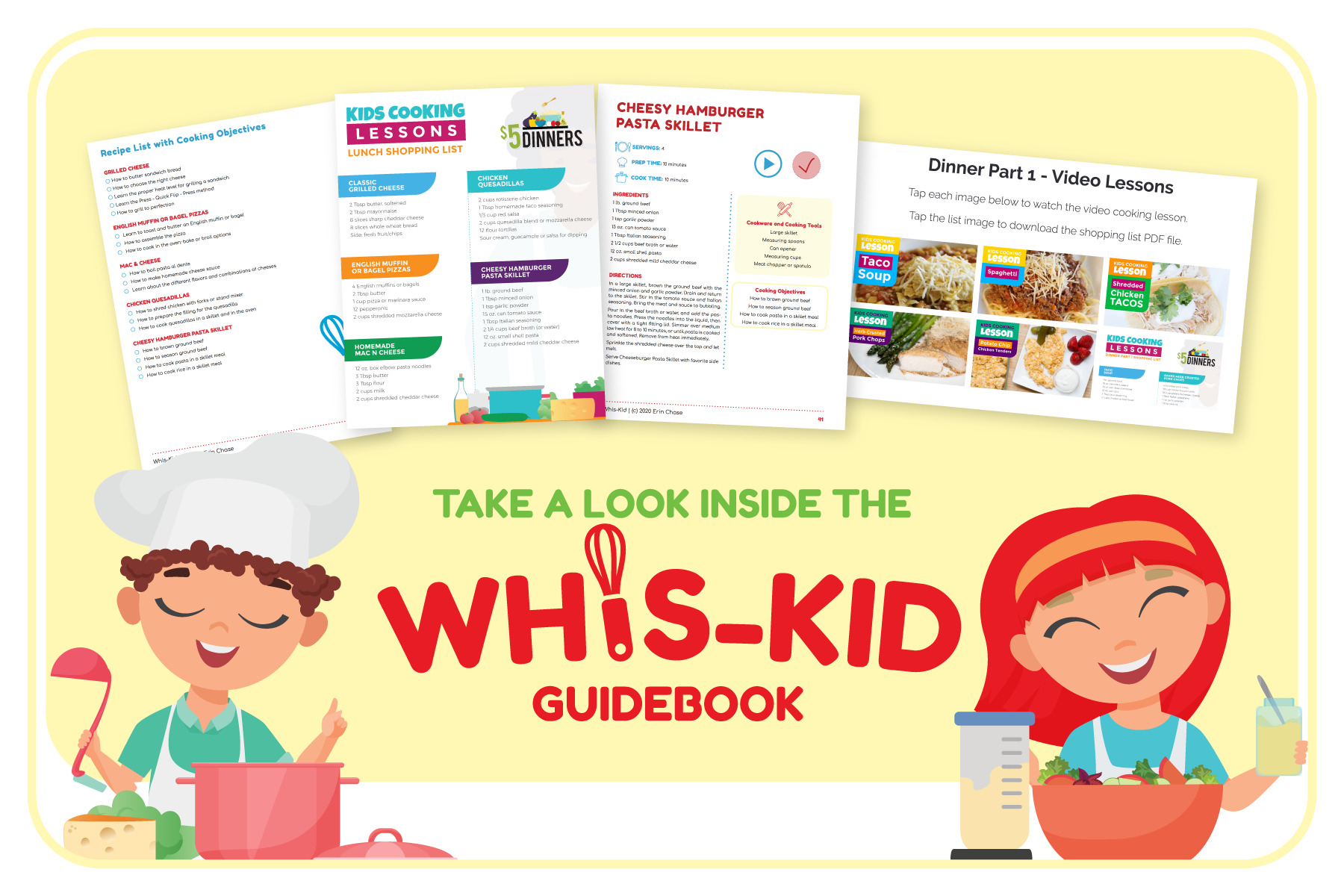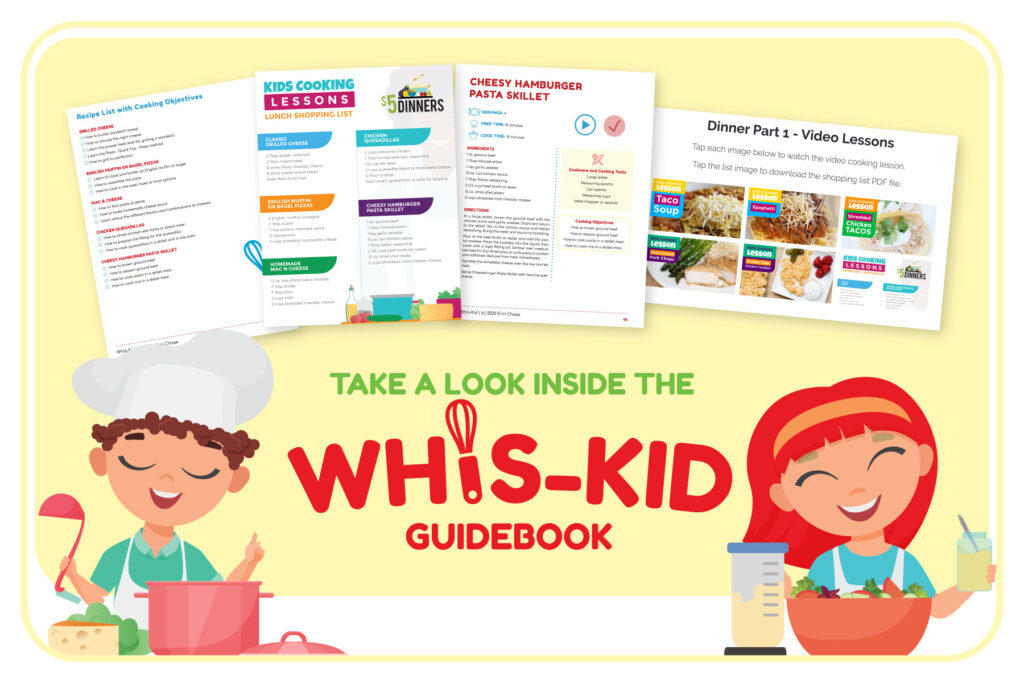 Option #1 – Whis-Kid Back to School Bundle: This is for you if you want the Whis-Kid curriculum and video lessons PLUS some goodies, gadgets, and an extra freezer meal plan!
With the bundle, you get:
Whis-Kid Guidebook and Curriculum Printed Copy
Whis-Kid Sticker Set
Printed Completion Certificate
Whis-Kid Guidebook and Curriculum Digital File (in case your kids want to use an ipad in the kitchen!)
Guided Video Lessons where I teach your kids how to cook
Set of 2 bag holders for freezer meal prep lesson
Pinch mitts to keep little hands safe from hot pots and pans
Back to School MyFreezEasy meal plan (digital file) to let dinner cook itself on busy days
Option #2 Whis-Kid Printed Workbook
With Whis-Kid Printed Workbook, you get:
Whis-Kid Guidebook and Curriculum Printed Copy
Whis-Kid Sticker Set
Printed Completion Certificate
Copy of the Digital File (in case your kids want to use an ipad in the kitchen!)
Guided Video Lessons, where I teach your kids how to cook
Option #3 Whis-Kid DIGITAL
With Whis-Kid Digital Workbook, you get:
Whis-Kid Digital Workbook, delivered to your inbox
Guided Video Lessons, where I teach your kids how to cook
FREE Back to Distance Learning Printables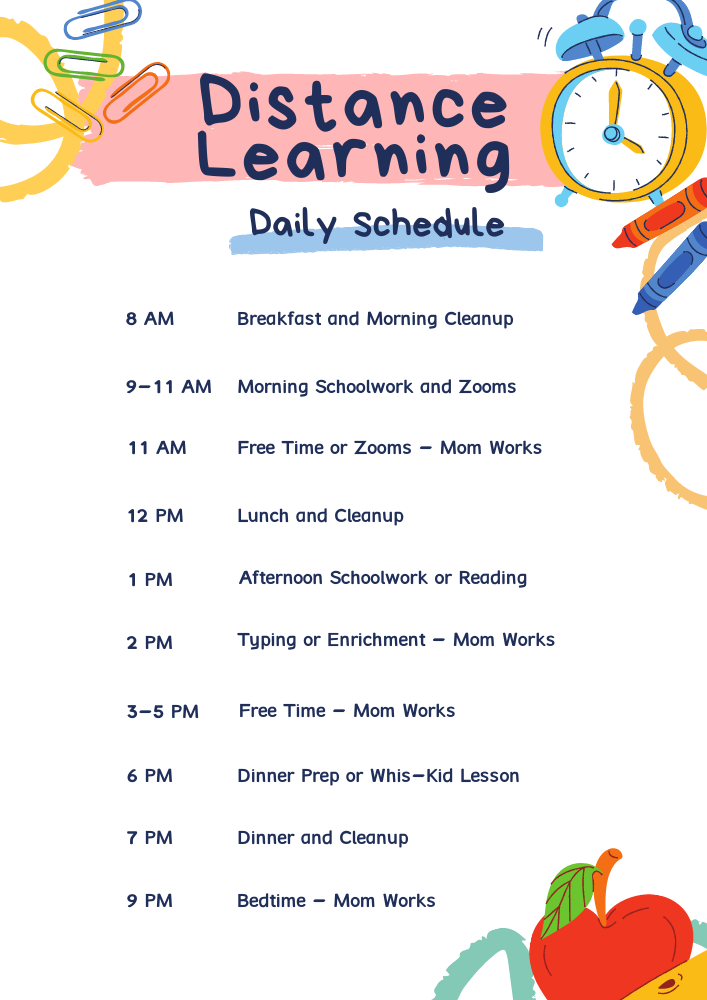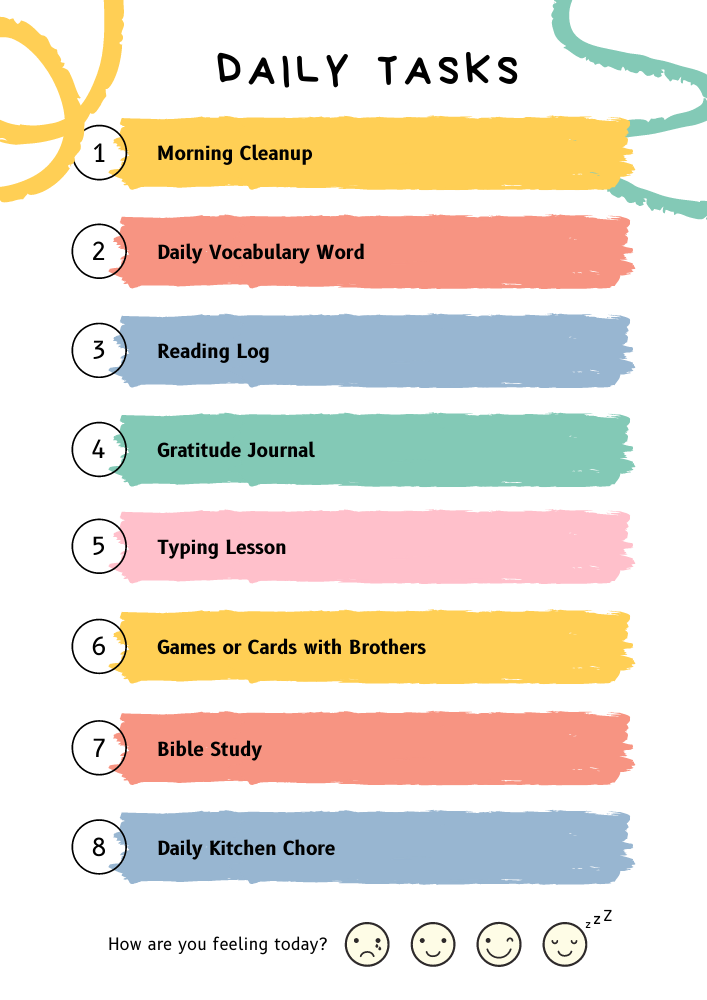 Finally, I have added a sample distance learning work-school schedule, as well as task list to our "Freebie Center."
You get instant access to those printable PDFs, as well as all the others we have available. It's a quick signup below!
xo
Erin "certainly prepared for uncertainty" Chase