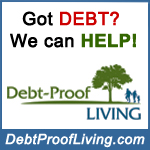 Debt Proof Living is a phenomenal website that helps individuals and families rise out of the pit of debt into financial freedom.  Mary shares her personal story of how she rose out of the dark pit.  From her experience comes her passion to help others become debt free and make their lives DEBT PROOF!
And just this week, Debt Proof Living received a makeover!  The all new website is now live, complete with these features and resources…including a simple plan to get you started, debt repayment calclulators, and a supportive and inspirational community to encourage anyone on the path of debt proof living.  Plus, her Everyday Cheapskate email newsletter is FREE…sign up here!
I'm thrilled to announce that I'll be partnering with Mary Hunt from Debt Proof Living.  Once a month, I'll be contributing ALL NEW recipes, including a shopping list, to Mary's Everyday Cheapskate column.  So head on over and check out this month's recipes on Debt Proof Living.
If you are a new visitor, coming from Debt Proof Living or the Everyday Cheapskate newsletter, I welcome you! 
I hope that you can start making $5 Dinners for your family…and be on your way to debt free living!