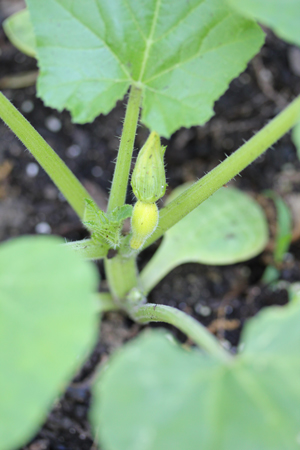 The garden continues to flourish! Likely from all the rain!
Sprouts
The squash plants have started to make tiny squash. There are at least 1 on each of the 6 plants I have in the side patch near the square foot planters.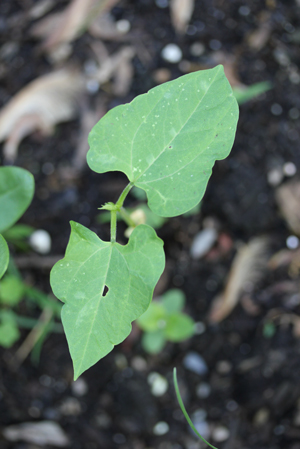 Last year, I grew green beans in the side patch…and they did quite well.  Apparently, a seed from one of the beans from last year that fell into the soil has sprouted.  I'm going to let it up and try to run it around the wire fence that surrounds the side patch.  Maybe we'll get some "wild" green beans?!?
Critters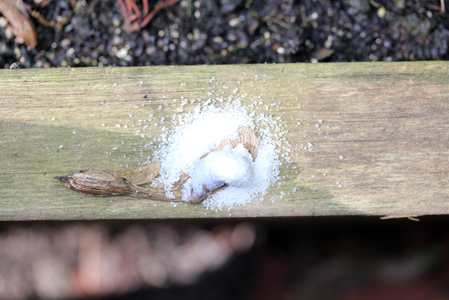 When picking lettuce for the pulled pork lettuce wraps earlier this week, I found a slug. I immediately found some salt and took care of it.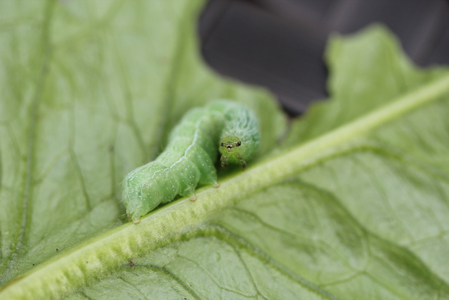 Then I pulled up another Romaine leaf and discovered what was causing the little holes that I mentioned last week. I had mercy on this one…despite the evil eye it's giving me!
I picked the leaf and placed the leaf in an empty pot near the garden.  I'm hoping that the entire leaf will satisfy him, make him fat…and that he'll make a chrysalis nearby.  Ryan has studied caterpillars and butterflies at school…and much of this is his idea!
If you'd like to learn more about Square Foot Gardening, please check out the Square Foot Gardening books by Mel Bartholemew.
Please tell us what's happening in your garden this week!!! New growth, any new critters?!