Update: This giveaway is now closed.  And the winner is…
#720 – Ashly!!! Congrats!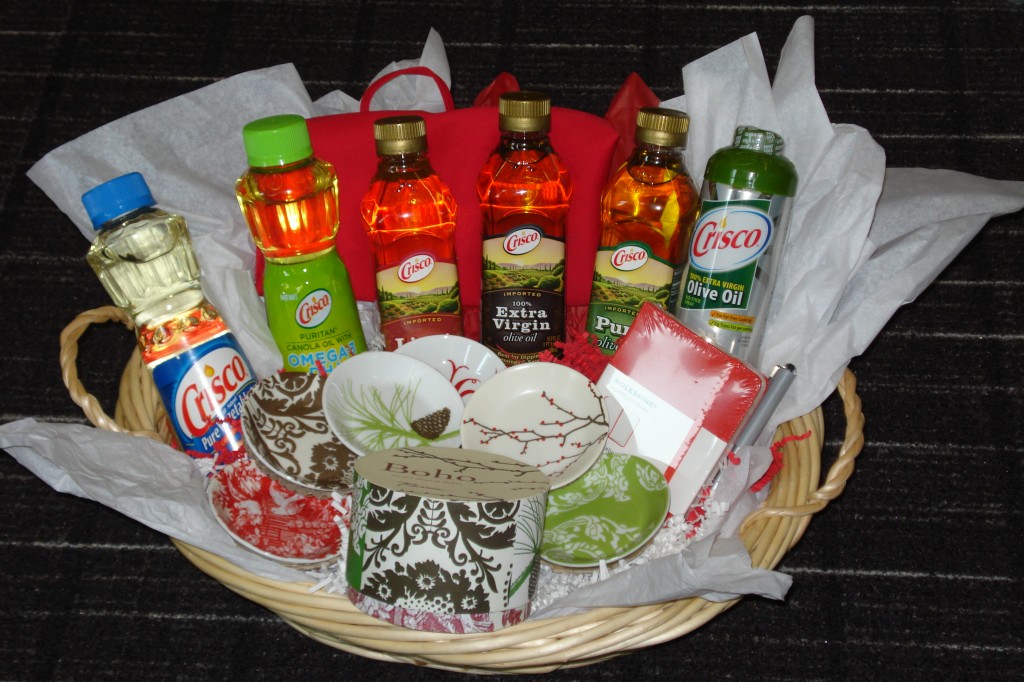 I've got another fantastic giveaway for you all this week!   This time from my friends at Crisco.
Last year I had the opportunity to learn about the line of Crisco oils and taste their olive oils. I knew about wine tastings, but had NO IDEA there was such a thing as olive oil tastings.
To get the best out of an olive oil tasting, it's important to warm the oil by holding the tasting dish in the palm of your hand and swirling it gently.  Then you taste it and swish it around your mouth, before spitting it out.  I was quite surprised by the difference in taste between the Extra Virgin and the Pure Olive Oils.  They have a different sweetness and different pungency. (Is that a word?)
Crisco is offering a gift basket that includes:
Crisco 100% Extra Virgin Olive Oil
Crisco Pure Olive Oil
Crisco Light Olive Oil
Crisco Puritan Canola Oil with Omega-3 DHA
Crisco Pure Vegetable Oil
Crisco Olive Oil Cooking Spray
Olive oil tasting dishes
an apron
and a journal to record your cooking chronicles.
I also wanted to share with you about the forum at Crisco Cooking Chronicles. It's a place for you to connect and share your cooking and baking stories via message boards.  It also has a great variety of video tutorials and cooking tips for tackling everyday cooking and baking challenges. Kicking off with an olive and canola oil theme, the tutorials section on the Crisco Cooking Chronicles will help consumers incorporate more easy and delicious recipes into their everyday diets like "Herbed Parmesan Bread Dipping Oil, "Grilled Salmon with Maple-Dill Glaze" and "Classic Blueberry Muffins."
Did you know that you can make brownies using the pure or light olive oils?!  I didn't!
Also, you can upload a "cooking chronicle" on Crisco.com and be entered into a series of drawings for a similar gift basket that you see here, as well as $500 for kitchen supplies.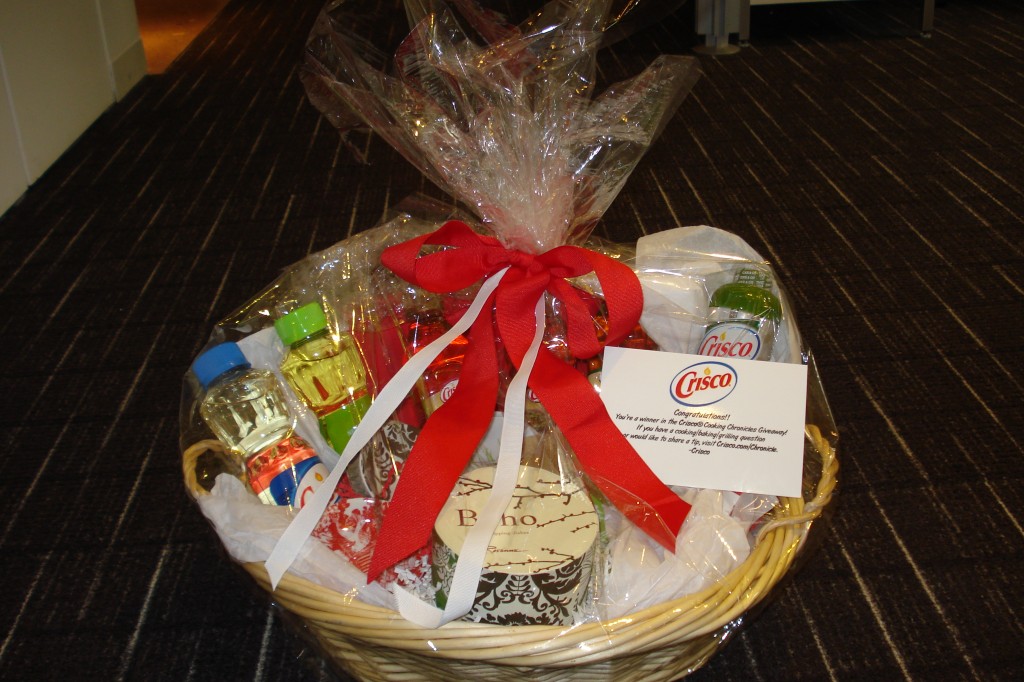 If you'd like this gift basket delivered to your door, follow the rules below for your entries!
Giveaway Details
1. Contest ends Wednesday, May 12th at 10 pm EST. Winners will be announced back here on this post, and notified via email with further instructions.
2. Entry #1: Leave a comment telling us what is your favorite oil(s) to use in the kitchen.
3. Entry #2: Follow me on Twitter and leave a SEPARATE comment. If you don't tweet, it's TONZ of fun and you should join in!
4. Entry #3: Become a Facebook Fan, or subscribe by email or in an RSS reader! Be sure to leave another comment for your third entry. 🙂
5. Winner will be selected by Random.org.
**NOTE: If you receive the email newsletter and wish to enter this giveaway, click on the title of this giveaway to get to the site and leave a comment on the site with your name and email address to be entered!
*Disclosure: I did receive a similar basket in conjunction with this giveaway.