A delicious and nutritious fall soup! I borrowed and slightly modified this recipe! I added apple juice in with the broth and it gave the soup just enough extra sweetness!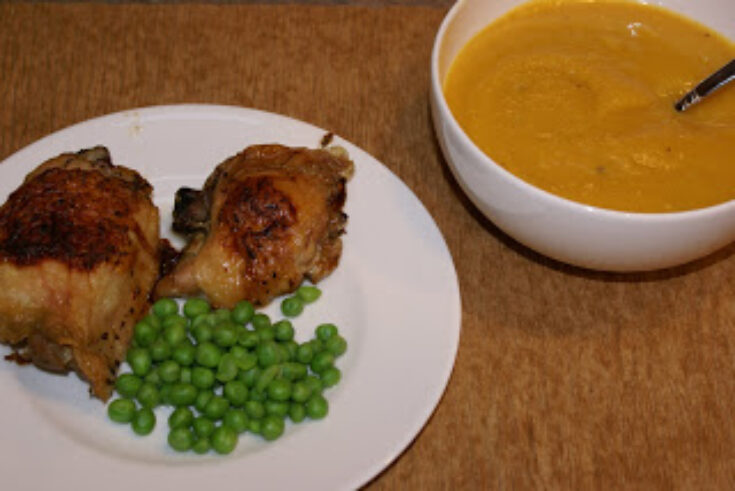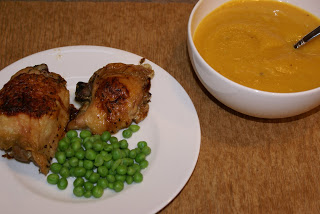 Ingredients
1

lb

Chicken Thighs ($1.85)

1/8

cup

Olive Oil Dressing ($.10)

1

large

Butternut Squash ($.69) Thanks Aldi!

2 T butter ($.10)

1

small

onion ($.20)

1 celery stalk ($.05)

2

small

potatoes ($.20)

3 cloves garlic ($.15)

1/4

cup

apple juice ($.10)

Spices: Dash of cinnamon, ground cloves and ground ginger ($.10)

2

cups

chicken broth (free or $1)

1-1 1/2 cups whole milk ($.20)

Salt and pepper, to taste

1

cup

frozen peas ($.50)
Instructions
Slice squash in half and then bake squash upside down in baking dish at 350 F for an hour. Remove from oven and let cool. Remove seeds, peel and scoop out flesh.

Dice onion, celery and potatoes. In large saucepan, add butter, let melt and then add onion, celery, garlic and potatoes. Saute for 7-8 minutes. Add cooked squash, spices and broth. Add apple juice and milk.

Simmer 30-40 minutes, until vegetables are soft and tender. Let cool a few minutes.

Puree in food processor, blender or with handheld immersion blender. Option: Garnish soup with thinly sliced apple or apple chips.

Place chicken in baking dish. Drizzle with 2-3 T extra virgin olive oil. Sprinkle salt and pepper over thighs. Bake at 350 F for 25-35 minutes, until juices run clear.

Cook peas as directed on package. Serve with soup and chicken!