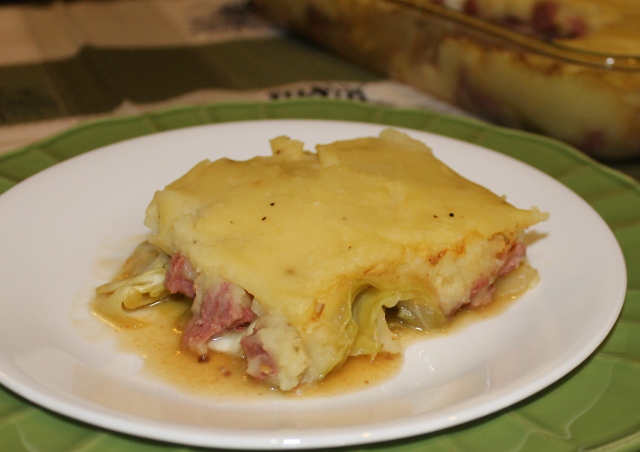 I always take advantage of the sales on brisket and cabbage at this time of year and make corned beef. Since the corned beef briskets are over 2 pounds, I inevitably end up with leftovers.  This is a quick and easy recipe to use up the leftover corned beef. And since cabbage is going for 25 cents a pound in my local grocery store, it is also quite frugal.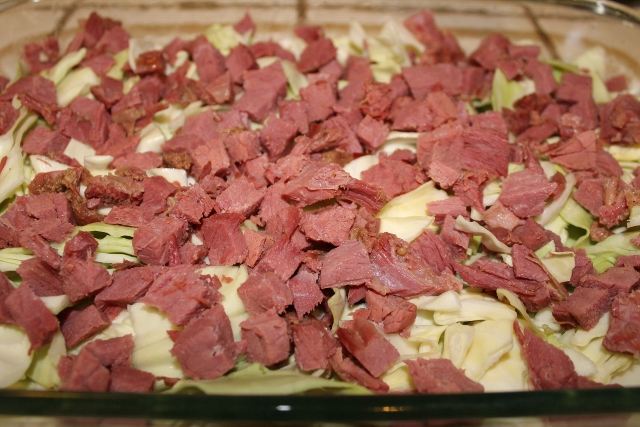 It may seem that there is a lot more cabbage than corned beef, but the cabbage will shrink while it is cooking.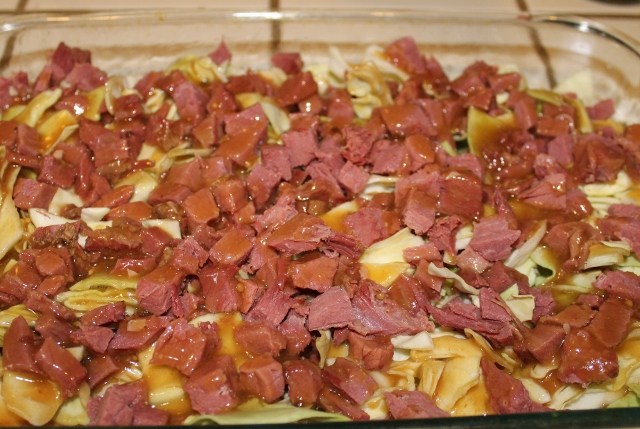 I pour gravy over the corned beef and cabbage. The best gravy for this casserole is gravy made with the drippings from the corned beef.
How to Make Gravy from Corned Beef:
Place 1 cup of corned beef drippings (don't strain) in a small pot. If you don't have 1 cup add enough beef broth to the drippings to make 1 cup.
Add a tablespoon of cornstarch to the drippings and whisk it in. Cook over a medium flame until it reaches a boil. Continue boiling, while stirring until the gravy thickens, approximately 2 – 3 minutes.
Whenever I say use leftover mashed potatoes in a recipe, someone always says, "We never have leftover mashed potatoes". So I am going to give you permission to make mashed potatoes on purpose just to put on this casserole. Use your favorite mashed potato recipe; I used Dairy-Free Garlic Mashed Potatoes in this casserole.
Ingredients
1/2 head of cabbage, shredded

2

cups

diced leftover corned beef

1

cup

gravy

2 1/2 - 3 1/2 cups mashed potatoes
Instructions
Preheat oven to 350 F. Grease a 13x9 baking dish.

Layer shredded cabbage in the bottom of the baking dish.

Spread corned beef over the cabbage.

Pour gravy over the corned beef and cabbage.

Spread mashed potatoes over the corned beef.

Place in the oven and bake at 350 F for 30 minutes.