This giveaway is now closed…and the winner is:
Laura says, "Rascal Flatts Here's to you. Thanks for the chance."
Winner has been notified by email with further instructions to claim their prize.  Stay tuned for $5 Dinners for a new giveaway coming soon!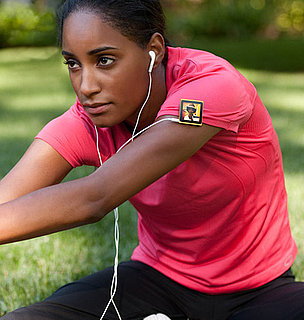 Working out. It's hard. It takes self-discipline, self-motivation and self-determination.
When it comes time for a run, there's one thing that helps me out with the motivation and determination parts.  And that would be music. How'd you guess?! 😉
The most difficult part of any workout is the first 10 minutes.  (At least that's how long it takes my body to transition from regular daily activity to work out activity.)  And there's nothing like a heavy, fast beat to get me through those first agonizing minutes.  Then the endorphins start to kick in, my body relaxes into the workout, and I can go on enjoying my tunes while I run.
But I'm telling you I need to start off each run with fast songs with a strong beat that will help kick my stride into gear.  I've used an iPod Shuffle for the past 2 years.  I love it because it's small, it clips right onto my shirt/shorts.  It only has a few buttons, so it's easy to change the song or volume while in mid-stride.
This week's Commit to Fit Giveaway is for an iPod Shuffle and a $15 iTunes Gift Card! I want to help you get motivated and stay determined throughout your workout by providing you with some tunes!
It's time to get your groove on…
Giveaway Details
1. Contest ends Saturday, October 9th at 9 am EST. Winners will be announced back here on this post, and notified via email with further instructions.
Entry #1: Leave a comment sharing your favorite "pick me up" song…whether for working out, or getting motivated to clean…what song gets you going?!
2. Winner will be selected by Random.org.
**NOTE: If you receive the email newsletter and wish to enter this giveaway, click on the title of this giveaway to get to the site and leave a comment on the site with your name and email address to be entered!
*Disclosure: I 'm grateful to have received a brand new iPod shuffle and iTunes GC as part of my involvement in the Commit to Fit campaign. Now Steve and I have one less battle to fight…we can each have our own now and can each have our own music programmed.  And opinions are my own. I really do love my iPod shuffle.