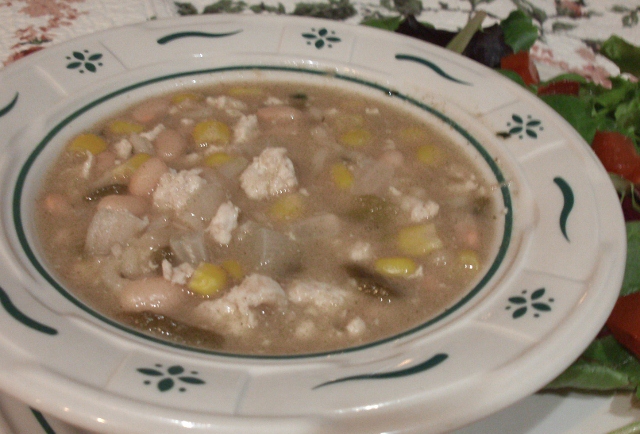 Cooler evenings call for spicy dinners to warm us up. I like to add rice to my chili to make it extra hearty. And IÂ often include corn in my white chili because the sweetness of the corn provides a nice contrast to the spicy peppers. Adding rice and corn are fairly inexpensive ways to stretch chili a little farther. This recipe makes enough for two dinners for my family. I freeze the leftovers and then have a ready-made meal on a busy night.
I usually use shredded chicken in white chili, but when I scored a package of extra lean ground turkey for .99 cents, I decided that I needed to change things up a bit.
I make a point of checking the meat mark downs and organic produce markdowns EVERY time I visit a grocery store. I have found that the best time to find good deals is after 6:00 p.m. because the manager marks items down right before his shift ends or first thing in the morning. I never know what I am going to find, but if you want to find great sales you have to look for them.
Ingredients
1 1/4 lb. ground turkey

1

medium

onion, diced

4 cloves garlic, minced

4

cups

cooked beans(How to Cook Dry Beans) or 2 cans beans

5

cups

chicken broth (How to Make Chicken Broth in a Slow Cooker)

1 tablespoon cornstarch

3 chili peppers, deseeded and diced

2 tablespoons cumin

1 tablespoon marjoram

1 teaspoon oregano

1/2 teaspoon cayenne pepper (or to taste)

2

cups

cooked rice (How to Bake Brown Rice)

1 (15 oz.) can corn, drained
Instructions
In a large pot, brown onion and garlic and ground turkey.

In a small bowl, mix 1 cup of chicken broth and cornstarch with a whisk. Add it along with the rest of the broth to the turkey.

Stir in all of the other ingredients, except for the corn and rice. Cook over a medium-high flame and bring to a boil.

Cover;reduce flame tolow heat and simmer for 15 minutes.

Add corn and rice and simmer for an additional 5 minutes.