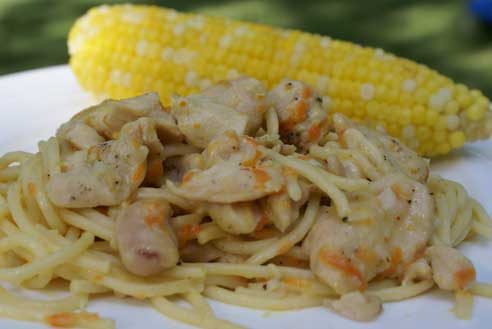 The boys called this "chicken spaghetti"…and it was pretty close…minus some cheese. This would be great topped with some shredded cheddar or grated parmesan! Since we're dairy-free, I left it out!
Ingredients
16 oz. spaghetti or linguini noodles ($.97)

1

Tbsp

olive oil ($.10)

2 chicken breasts, cut or diced into small pieces ($1.20) Remember that great chicken deal last week!

Salt/Pepper, to taste

4

Tbsp

butter or margarine ($.30) Note: I used dairy-free margarine

4

Tbsp

flour ($.08)

4

cups

milk ($.40) Note: I used rice milk

2 carrots, peeled and grated ($.20)

3 garlic cloves, crushed ($.15)

4 corn cobs ($.68) On sale last week for $.17 an ear!
Instructions
In medium saucepan, bring water to a boil. Add pasta noodles and cook according to package instructions. Drain and return to saucepan.

In large skillet, add olive oil and cut or diced chicken pieces. Season with salt and pepper. Saute until all chicken pieces have cooked through. Once cooked, remove from skillet and set aside on nearby plate.

In same skillet, add butter or margarine. Let melt over medium heat. Stir in flour, creating a paste. Whisk in milk. Whisk until paste "dissolves." Let cook over medium heat for 4-5 minutes, or until begins to thicken.

Add shredded carrots, crushed garlic and cooked chicken to the white sauce. Stir through and let simmer for 5-10 minutes, or until reaches desired consistency. Stir chicken and sauce into cooked noodles.

Remove husks and boil corn cobs for 4-5 minutes in large saucepan.

Serve Chicken Tetrazinni with Corn on the Cob.