When I got my Pampered Chef Deep Covered Baker, I also got a few recipes to try out…and this is one of them. I made a few slight modifications…mainly, I used tomatoes from the garden and added in some chopped mini-onions from the garden as well.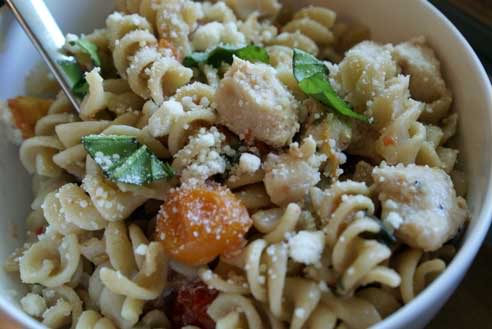 Ingredients
About 2/3 cup chopped onion (from the garden)

4 garlic cloves, chopped ($.10)

6-8

small

tomatoes (from the garden)

2 chicken breasts, diced ($2.11)

3

cups

of rigatoni pasta ($.40) I used less than a box of my $.50 Barilla pasta from the past 2 weeks!

2 1/2 cups homemade chicken broth (free!)

Handful fresh basil and parsley (from the garden)

Salt and pepper to taste

Parmesan cheese to garnish ($.25)

1

bag

Ruby Red salad mix ($.59) Marked down...more on my salad ordeal...err, deal tomorrow!

2 tomatoes (from the garden)

Italian dressing ($.05) Bought today with sale, store promo and coupon! Details tomorrow!
Instructions
Spray deep covered baker with cooking spray. Place chopped onion, garlic and tomatoes into base of cooker. Cover and microwave for 5 minutes.
Cost $3.50