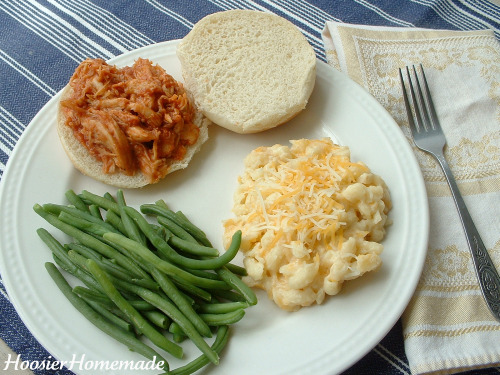 Like most other Moms, I'm super busy…finding meals that I can prepare ahead, especially on Baseball Game Nights, is a top priority for me.  These quick and easy Chicken Barbecue Sandwiches, couldn't be any easier.
Ingredients:
2-4 Frozen Boneless/Skinless Chicken Breasts ($2.00)(depending on your family size, I used 3 for our family of 5 and had lots of leftovers)
3/4 cup Ketchup ($.10)
1/2 cup Brown Sugar ($.10)
1 Tablespoon + 1 teaspoon Vinegar ($.02)
Directions:
Place chicken breasts in crockpot, I didn't even defrost them. Mix ketchup, brown sugar and vinegar, pour over chicken. Cook on High for 3-4 hours or Low for 6-8. Remove chicken from crockpot, and shred with fork. Return to crockpot to heat thru, serve on a bun.
Note: This is the same Barbecue Sauce I use on Meatballs and other meat.
I served the sandwiches with Baked Macaroni and Cheese. I often cook Macaroni and Cheese, but it's always great to try new recipes, you never know if you will like the new one better. A couple weeks ago, I reviewed and cooked a week's worth of Make-Ahead Meals. This recipe is also from that cookbook.
Baked Macaroni and Cheese
Ingredients:
16 oz box elbow macaroni ($.63)
6 cups milk ($.50)
1/2 cup butter or margarine ($.15)
2 Tablespoon instant chicken bouillon powder ($.02) (I didn't have this, so I just crushed 2 bouillon cubes)
1/2 cup flour ($.05)
1 1/4 cups sharp cheddar cheese, grated ($.70)
1 1/4 cups American cheese, grated ($.70)
1/2 cup freshly grated Parmesan cheese (optional)
Directions:
Spray 13×9 pan with nonstick spray and set aside. Cook the pasta as directed on box, drain and set aside. Warm the milk in the microwave to room temperature, set aside. Melt the butter in a large skillet or saucepan over medium heat. Add the bouillon and flour and whisk for one minute. Slowly whisk in the milk and continue stirring, until there are no lumps and the sauce has thickened. Stir in the cheddar and American cheese and remove from heat. Continue stirring until the cheese has melted. Stir in the cooked pasta until well combined. Pour into the baking dish evenly. Sprinkle the top with Parmesan cheese, if desired. Cool for 15 minutes, cover with foil and refrigerate, or cook immediately.
If you are making this dish ahead, remove from fridge 30 minutes before cooking. Cover and bake at 350 degrees for 30 minutes. Remove the foil and bake another 10 -15 minutes until bubbly.
I also served frozen green beans, Free, from the garden last year, that I needed to use up.
Liz is a SAHM of 3 teenage boys and happily married for 20+ years. She shares lots of homemaking tips including her love for baking, cooking and decorating on Hoosier Homemade. She hosts Cupcake Tuesday blog carnival with lots of cupcake creations.
Do you have a Go-To Meal for game nights?