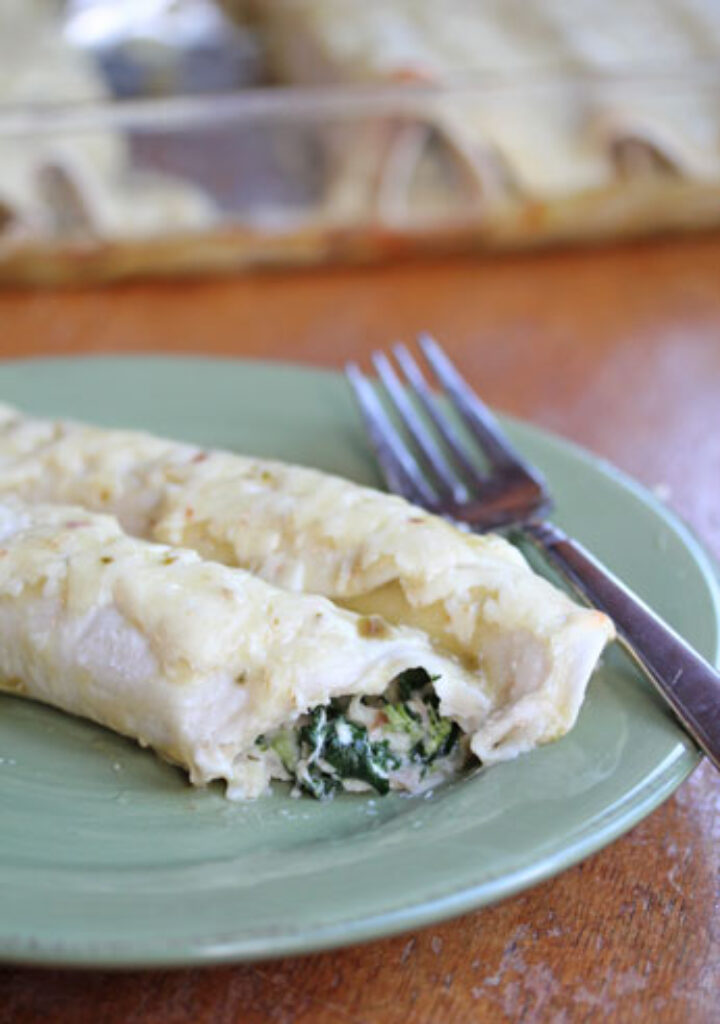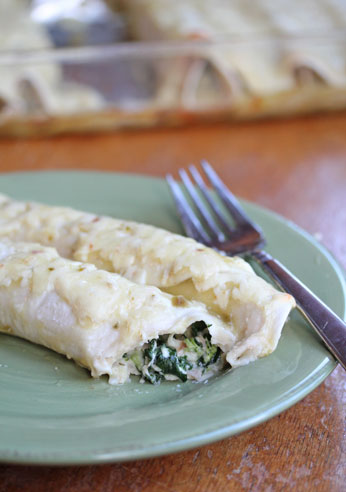 I made these enchilada gems for my husband and his dude friends…just before Christmas. We hosted a guys night and I made 2 pans of these for the guys to snack on. (And I may have had a few…in the name of quality control!)
The recipe is written for 2 pans…but you could easily half the recipe to make it for just 1 pan.
And before you go all "these can't be real enchiladas…they don't use corn tortillas"…calm down. I realize that these don't use corn tortillas. I don't like enchiladas that are "cream sauce" based, or "green sauce" based that are made with corn tortillas. For some reason they don't mix well or taste good to me. So I apologize to all you "enchilada purists". And I encourage you to give the flour tortillas a try in your next "green or cream sauce" enchiladas!
Freezer Friendly: These would also freeze nicely either before or after they are baked. Thaw completely before baking at 350 for 30 minutes to reheat. Make in a disposable foil baking pan for easy delivery to those in need of a meal!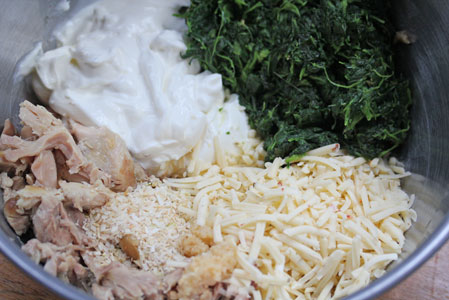 Fixins for the spinach sauce for inside the enchiladas.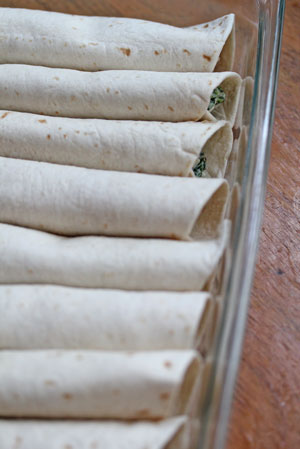 Rolled up.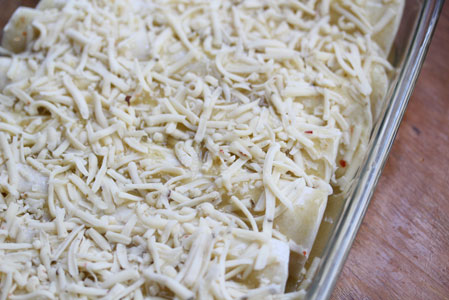 Sauce-ified. Cheese-ified.
Ready for the oven.
And I encourage you to give the flour tortillas a try in your next "green or cream sauce" enchiladas.
Ingredients
3

cups

cooked, shredded chicken

16

oz.

container sour cream

2 - 10

oz.

boxes frozen spinach

cooked and well drained

4

cups

shredded pepper jack cheese

divided

2

Tbsp

minced onion

2

tsp

minced garlic

2

tsp

ground cumin

Salt and pepper

18

soft taco size flour tortillas

2 - 10

oz.

cans green chile enchilada sauce
Instructions
Preheat oven to 350. Lightly grease 2 - 9x13 glass baking dishes with non-stick cooking spray.

In a large mixing bowl, mix together the shredded chicken, sour cream, spinach, 1 cup of the pepper jack cheese, minced onion and garlic, cumin and some salt and pepper.

Spoon the mixture into each of the tortillas. Roll, and place the tortillas seam side down in the baking dish. (I can generally fit 8 to 10 enchiladas in a pan, depending on how full they are and how tight they are rolled.) Fill both pans.

Then pour 1 can of the green enchilada sauce over the top of 1 pan, and repeat with the other can. Sprinkle the remaining 3 cups of pepper jack cheese over the 2 pans.

Bake in the preheated oven for 30 minutes, or until cheese is melted and begins to golden, and sauce is bubbling.