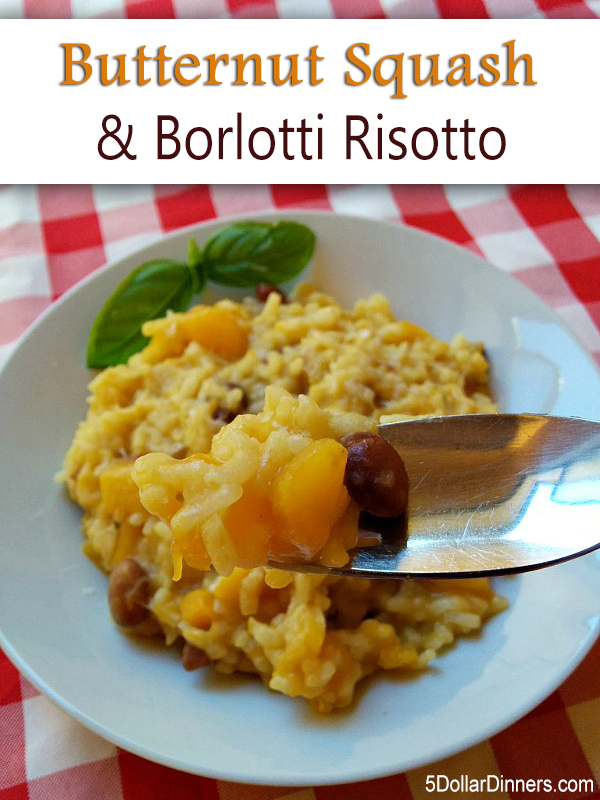 I'm all about making life as easy as possible. Especially in the kitchen. This one-pot meal requires little attention from the chef unlike traditional risotto, but still tastes and looks so elegant.
The borlotti beans are an Italian brown bean that can be replaced with pinto beans. It offers great color contrast. But I've made this with white beans, too, which is a better idea for picky eaters.
One more thing that makes this recipe easy is that you don't have to stick to exact measurements. I just use an entire onion no matter the size. I use an entire squash, no matter the size. And I use an entire package of arborio rice. Of course, you do have to read the package to make sure you add the right amount of broth. But otherwise, anything goes!
You probably will notice this makes a lot of risotto. This is my freezer version. You can easily halve it if you don't have the space. But since my family loves it, I rarely have leftovers of the smaller version. And since it's so easy to make and freezes so well, there's just no reason for me not to make the full batch!
Ingredients
5

cups

butternut squash, diced

2 1/2 cups arborio rice

8

cups

vegetable or chicken broth

1 small-medium onion, finely chopped

3

cups

borlotti beans(Or learn how to cook your own beans here.)

salt and pepper, to taste

dash nutmeg, optional

grated Pecorino cheese, optional garnish

basil or parsley, optional garnish
Instructions
Coat a largepot with olive oil.

Add chopped onion and stir; cooking until soften.

Stir in remaining ingredients including nutmeg, if using (exclude the garnish, of course).

Bring to a boil and reduceheat to low.

Simmer for 30 minutes, stirring occasionally to prevent sticking.

Garnish as desired.

Enjoy!