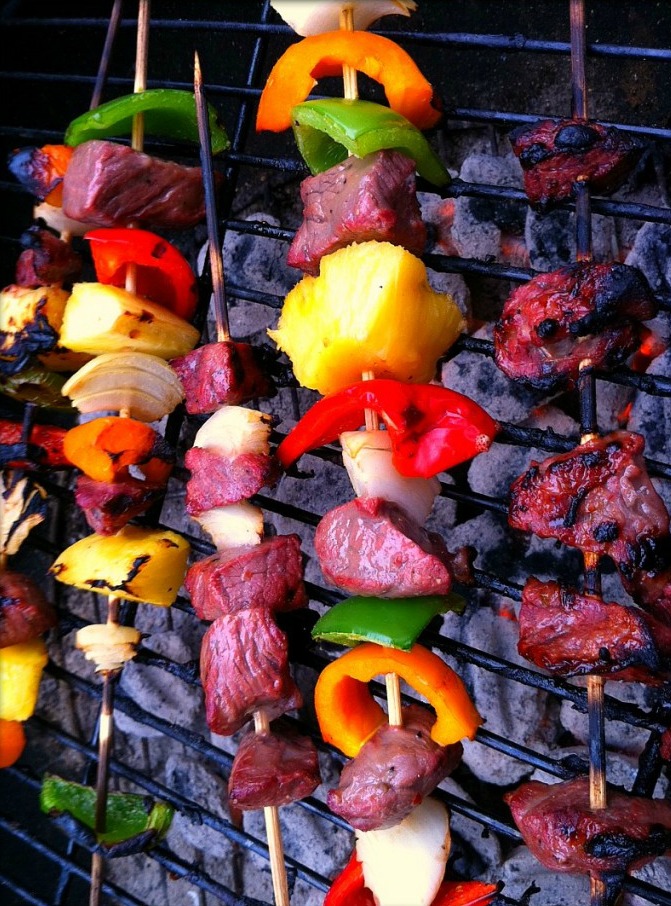 Beef & Veggie kabobs are not only filling and healthy but are pretty too, so serve them for company vs the same ole' hamburgers & hot dogs!
As always, you know our meals are EASY and simple. These took all of 15 minutes to prepare… and 10-15 to cook, because hubby does the grilling 😉
Win win!
And of course, the dinner was under $10! (Frugal tip, now that it's summer, your best bet is the farmers markets. If you go 15 minutes before they close, ask what their bottom price is on the veggies as they would rather sell them than haul them back home, so you get them for pennies.)
Beef Kabobs

Yield – 4 servings

Preparation Time – 10 minutes (+2 hours to marinate meat)

Cooking Time – 10 minutes

Ingredients

meat cut into chunks – I used beef, you can use chicken, pork, what ever suits your fancy!
pineapple chunks
1 red pepper
1 green pepper
1 orange pepper
1/2 of a large yellow onion
Marinade (I used herb & garlic), but there are plenty to choose from.

Directions

Put meat chunks in a baggie & marinade overnight in the refrigerator. (You only need to marinade them about 2 hours, but overnight makes them SO juicy.)
Cut up remaining ingredients into chunks.
Layer onto a skewer (If you don't have a metal skewer, use the bamboo ones, but soak them in water first so they don't burn on the grill.)
Stack everything on the skewer in an alternating pattern and throw on the grill!  Grill for about 8 – 10 min turning frequently.
Can't you just see the juices?? YUM!

I paired these with some baked potatoes and was shocked when Bella (my pickiest eater) had 2nds! Hooray!

Cheating hint: I used beef stew chunks that were on sale, so I didn't even have to cut up the meat!