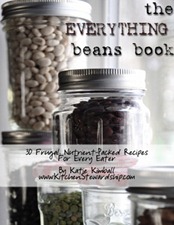 The lovely Katie from Kitchen Stewardship just released her latest e-book called, "The Everything Beans Book: 30 Frugal Nutrient Packed Recipes for Every Eater." While the book offers 30 different bean recipes, it really offers close to 100 because Katie gives you so many different ideas for ways to change, substitute or adapt the recipe for your dietary needs!
Some of the Bean-y Recipes include…
Cheesy White Chicken Chili
7-Layer Tex Mex Appetizer Dip
Cuban Black Beans and Rice
Pesto "Bean"-fredo
Spaghetti and Pinto Bean Chili
A few thoughts from within the book…
"Two reasons: Beans are frugal, and beans are healthy. (If you're lucky, you'll add "they
taste great!" to that list too.)

In our family, we eat beans at least once a week, often as part of a meatless meal but sometimes paired with meat in the main dish or on the side. Using beans, especially dry beans, allows me to provide a hearty meal with less meat or no meat, thus freeing up funds for me to purchase the meat, eggs and milk I want to feed my family and keep the budget in the black."
Love the way she thinks! If you are interested in learning more and purchasing Katie's latest book, you can find information over at Kitchen Stewardship.  Also, I love her Healthy Snacks to Go ebook as well!
I hope you enjoy!