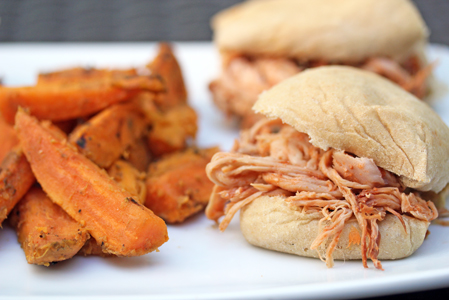 Welcome to the first post in my summer series called "Friday Nite Bite."
This has nothing to do with any vampires or neck biting.  It will however be a summer friendly meal…usually cooked on the grill…that you can enjoy on the long, lazy summer nights!
So last week we had Sesame Pulled Pork Lettuce Wraps.  And I had another pound of pulled pork left (that I put in the freezer).  As I was rummaging through the freezer, I found a bag of frozen sister schubert's rolls that I bought right before heading off to NYC.
Perfect for Sliders!
Tonight it's BBQ Pulled Pork Sliders and Grilled Sweet Potato Fries!
Cook or warm up your pulled pork.  Add some BBQ sauce and throw the mixture on some rolls.  Super easy and delicious!
(TIP: If it's too hot to have the slow cooker running in the house, warming up the kitchen…find a safe place on a porch and let it cook outside. But be warned…you might have a few neighbors knocking on your door wanting dinner! 😉
What are y'all biting on this fine Friday nite?!